Luxury bus service starts today
Posted by Editor on January 3, 2012 - 7:01 am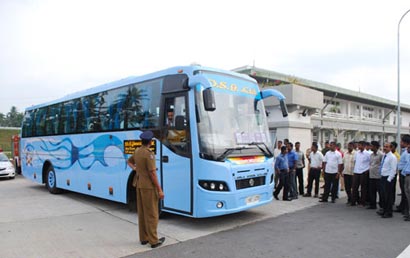 The Sri Lanka Transport Board (SLTB) will start a super luxury bus service on the Southern Expressway from today.
The Highways Ministry has granted permission for the operation of SLTB super luxury buses on the Expressway after Transport Minister Kumara Welgama sought permission for bus operation on the Expressway from President Mahinda Rajapaksa who is also the Highways Minister.
Two buses starting from 6.00 a.m. and 8.00 am from Maharagama and Galle will be in operation till 5.00 p.m. A bus will leave Maharagama and Galle every two hours till 5 p.m.
Transport Minister Kumara Welgama, Deputy Minister Rohana Kumara Dissanayake and chairman of SLTB M.D. Bandusena will participate in the launching ceremony at Maharagama today.
A passenger will pay Rs 380 on starting the journey from Kottawa entry/exit point. Rs 400 will be charged, if a passenger starts the journey from Maharagama.
The buses are equipped with all facilities and safety measures.
Courtesy: Daily News
Latest Headlines in Sri Lanka