Country's University education blossoming – President
Posted by Editor on February 6, 2013 - 7:36 am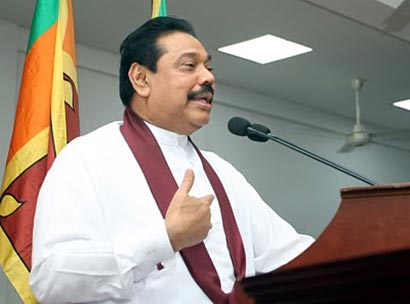 FILE PHOTO
Education is the major resource while knowledge is the main weapon, President Mahinda Rajapaksa said yesterday. The future of the country is with the younger generation especially with the university students, the President said.
The President was addressing a gathering at the Eastern University, Batticaloa, yesterday when he unveiled the Zoology block and the renovated auditorium at the Eastern University.
University education in the North and East was hampered by the LTTE terrorism. As a result of terrorism, the stage of the main auditorium of the Eastern University was blasted, the President said.
Allocations made for higher education and the uplift of the university were not properly utilized during the terror period. Most of the members of the academic staff of the university left the country owing to the reign of terror. After liberating the country from the clutches of terrorism, the government took steps to uplift university education to meet present day requirements, the President said.
Now the university system is blossoming. New undergraduate courses have been introduced for the first time to university education. A professor will be attached to the medical faculty of the Eastern University. Cabinet approval has been granted for this. The entire university education will be subjected to radical change soon in order to meet the country's requirements and of society. The graduate should be job oriented and equipped to take up any challenge in the competitive environment, the President added. He said a graduate should be a person of quality, equipped with multiple skills and capable of taking the country forward, the President noted. "The academic staff should also be dedicated to create a capable student community enriched with knowledge and skills.
New experiments have to be carried out at universities. In the final outcome our universities have to match the universities of world ranking", the President said.
Courtesy: Daily News
Latest Headlines in Sri Lanka