Court orders removal of sign board
Posted by Editor on August 16, 2013 - 7:53 am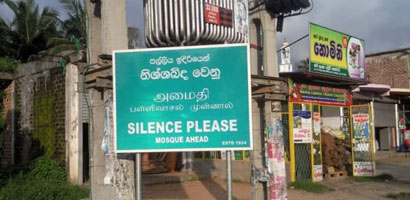 Pelassa Magistrate Namal Perera ordered the Moulavi of the Paragahadeniya Grand Mosque in Mawathagama and the Road Development Authority yesterday, to remove the sign board erected in front of the Mawathagama Paragahadeniya Mosque, which reads, 'Mosque ahead- keep silence', within 14 days.
The magistrate also ordered that, after removal of the notice, the matter be reported to the magistrates' court. His order follows a complaint made to court by the Mawathagama Police.
The OIC of the Mawathagama Police Station, Inspector Deshabandu Senaratne pleaded from court that the notice be removed on an order under number 98 of police regulations, in order to avoid an uprising of the Sinhala Buddhists of the area.
Meanwhile, a suspect named Mohamed Hassim Samsudeen, described as a teacher attached to Theliyagonna Hisbullah Central College, Kurunegala who had been arrested for allegedly damaging the notice board was ordered by the magistrate to be remanded until August 21.
(Courtesy: DM Online)
Latest Headlines in Sri Lanka