Court revokes travel ban on Dilantha Malagamuwa
Posted by Editor on December 8, 2011 - 9:02 am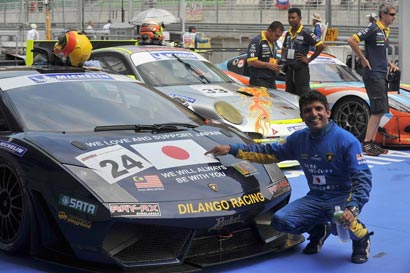 A Colombo Court yesterday revoked travel restrictions imposed on well-known Sri Lankan racing driver Dilantha Malagamuwa after his counsel's assurance to court that Mr. Malagamuwa would appear in court on December 14. Mr. Malagamuwa is currently living in Malaysia.
In a case before the Colombo Fort Magistrate, the CID alleged that Mr. Malagamuwa had obtained Rs.15 million from a Sri Lankan businessman and thereby committed a criminal breach of trust by violating section 389 of the Penal Code.
Mr. Malagamuwa had filed an anticipatory bail application in court to pre-empt the possibility of his arrest on charges of a non-bailable offence.
When the case came up before Magistrate Lanka Jayaratne, counsel Jeewantha Jayatilleke appearing on behalf of Mr. Malagamuwa informed that he was taking responsibility for his client to be produce in court at the next hearing date. He further moved court that the travel restrictions imposed on him be revoked since his arrest at the airport would damage his reputation in the sports arena.
Courtesy: DM Online
Latest Headlines in Sri Lanka