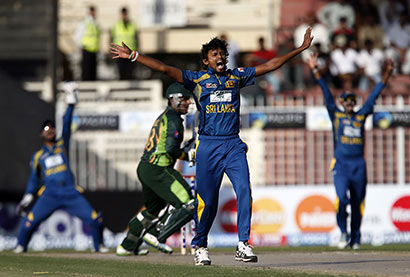 Sri Lankan captain Angelo Mathews urged his team to remain positive in their quest to level the one day international series against Pakistan when the teams meet in the fourth match in Abu Dhabi on Wednesday.
The Islanders trail 2-1 in the five-match series after Pakistan won the third match by 113 runs in Sharjah on Sunday.
Pakistan had also won the first match in Sharjah by 11 runs last week before Sri Lanka tied the series by winning the second by two wickets in Dubai.
Mathews said his team must play their natural game if they were to have any hope of levelling the series.
"We have nothing to lose, we have to just go there and express ourselves and be confident to try and win because we need to stay positive to win," said Mathews.
Mathews praised Pakistan team.
"We all know that Pakistan have got good batsmen and also bowlers and they have a pretty good balanced team so we must try and take them on and try and win the game," said Mathews.
"The wicket (for the third one day game) was absolutely brilliant for batting on and we actually thought we could have chased it, but we couldn't and now we will think about our strategies and go ahead," he added.
Pakistan batted first in all three games, the last two they were sent into bat by Sri Lanka.
Paceman Umar Gul hoped Pakistan clinch the series in the fourth game.
"It's important to win the series in the fourth match so that we don't have to wait for the final game," said Gul, who took 3-19 on Sunday.
The fifth and final match will also be played in Abu Dhabi on Friday.
"Our team is doing well in batting and bowling and the momentum is with us so we will definitely go for a kill," said Gul. (AFP)