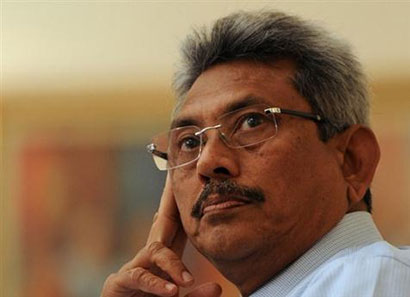 Together, I have every confidence that we can transform this country not only into Asia's next Knowledge Hub, but also the Wonder of Asia said Secretary, Ministry of Defence and Urban Development, Gotabaya Rajapaksa delivering the keynote address at the "WorkinSriLanka" Conference 2013 at the Taj Samudra Hotel in Colombo Monday morning (23).
WorkinSriLanka is a volunteer-led 'brain gain' initiative of SL2College, to position Sri Lanka as an attractive destination for highly skilled individuals and high calibre businesses. The project has been launched on 14th May 2013 in collaboration with key public sector officials, industry leaders, heads of international NGO's, government institutions and civil society experts. During the conference it drew the attention into the launch of their comprehensive portal that provides relocation information and access to variety of key industry bodies within the country.
Full speech is as follows:
It gives me great pleasure to address you this morning at the inaugural "Work in Sri Lanka" Conference. In keeping with the national vision for economic growth, this conference explores Sri Lanka's potential to become Asia's Next Knowledge Hub. Capitalising on its present opportunities to achieve this transformation would have seemed impossible even a decade ago, when Sri Lanka remained affected by terrorism.
Speaking further, Defence Secretary added that when His Excellency Mahinda Rajapaksa was elected to the Presidency in 2005, he had a very clear vision of ending the terrorist conflict and bringing peace and stability back to the country. This was one of the core promises of the Mahinda Chinthana, which outlined his vision for the first term of his Presidency. Less than five years into that first term, terrorism in Sri Lanka was defeated, and peace was won for our people,
Defence Secretary further said that The Government has been laying the seeds of this transformation since before the end of the war. Its investment in vital infrastructure such as the Hambantota Port, Mattala Airport, energy generation and transmission facilities, and high quality road and rail networks have created a strong base on which to build for the future. The task before all of us now is to make maximum use of this foundation to take Sri Lanka to the next level, he said.
The Mahinda Chinthana Vison for the Future, which outlines the President's vision for his second term in office, focuses on strengthening the peace and fast-tracking economic development. The main thrust of the development strategy identified is the transformation of Sri Lanka into a dynamic global hub. This strategy makes full use of
Sri Lanka's strategic position in the centre of the Indian Ocean
Its educated and productive workforce, and
Its hard won peace, stability and security.
It envisions that Sri Lanka will become a Naval, Aviation, Commercial, Energy and Knowledge Hub. The Government has been laying the seeds of this transformation since before the end of the war. Its investment in vital infrastructure such as the Hambantota Port, Mattala Airport, energy generation and transmission facilities, and high quality road and rail networks have created a strong base on which to build for the future. The task before all of us now is to make maximum use of this foundation to take Sri Lanka to the next level.
There are already glimpses of Sri Lanka's true potential in the many sectors it excels in. Its apparels and garment industry is widely known as one of the best in the world. In addition to manufacturing clothing of the highest quality for leading brands, Sri Lankan companies are increasingly recognised for design, innovation and the adoption of cutting edge technologies. Sri Lanka's apparel industry is also widely recognised for complying with international best practices and being free of child labour, forced labour, and sweatshop practices. Companies and groups such as Brandix, MAS Holdings and the Hirdaramani Group are world-class enterprises in this sector. The expertise of Sri Lankan professionals is also much sought after by firms in the apparels industry in other nations. In addition to the world's first green garment factory, there are a number of LEED Platinum and Gold certified production facilities in the country. This is a strong indication of Sri Lanka's potential to be a high tech, world-class competitor in large global industries.
In the Computer industry, Sri Lanka has produced several innovative companies and engineers who have developed software used in many critical applications around the world. Large local firms such as Virtusa, Millennium IT, WSO2, IFS and CodeGen have developed a broad range of software used in many fields. This includes software for large-scale real time financial transactions, middleware for online auction and retail applications, enterprise resource planning software, travel & ticketing engines, custom applications to streamline business processes & operations, and even artificial intelligence. There are IT companies in Sri Lanka which have even developed software facilitating overseas evaluation of medical imaging for American hospitals, and battle simulation training software used by some of the world's leading militaries. The overall quality and high level of innovation in Sri Lanka's IT industry is widely recognised, and its future potential is immense. In this context, it is very heartening to note that the University of Moratuwa has been ranked as the world's leading institution in Google's "Summer of Code" programme from 2005 to 2012. More than twice as many of its students have been selected for stipends and awards as the next highest ranked university.
In addition to these large and comparatively long established industries, there are several specialist Sri Lankan companies and outsourced production facilities in the country that make world-class industrial products and components. These include companies active in non-traditional industries such as the production of sensors for automobile airbags, and the manufacturing of yachts and boats. It has to be admitted, however, that one of the limiting factors for further innovation and growth in high tech industries is that there are too few high quality universities and Research and Development oriented institutions in Sri Lanka. Nevertheless, as with the Sri Lanka Institute of Nanotechnology, which is a successful public private partnership between the Government of Sri Lanka and several leading firms in the private sector, there is a lot of potential for Sri Lanka to develop further in this area.
One of the primary reasons for the successes of local businesses in various fields is the very high quality of Sri Lanka's human capital. Sri Lankan schools and universities produce smart and hardworking professionals in a large number of sectors. These individuals have excelled in their chosen fields both in Sri Lanka and abroad. Due to the uncertain situation that prevailed in the country from the 1980s until 2009, however, many of our best and brightest left Sri Lanka to seek greener pastures in other countries. Whether these individuals left to escape the conflict, pursue higher education, obtain more lucrative employment or enjoy a better quality of life, their departure was a serious loss to the nation. Now that Sri Lanka has overcome the problems it faced in the past and is poised for rapid and equitable growth, the time is ripe for expatriate Sri Lankans from all communities to consider coming back home.
For its part, the Government is very keen on creating an environment conducive for knowledge workers and other professionals to live and work in Sri Lanka. These individuals expect to maintain a high quality of life for themselves and their families. They therefore require a social and physical environment that is of a high standard. The creation of such an environment is also extremely important from the perspective of attracting Foreign Direct Investment, and for the further development of local industries and businesses. It is for these reasons that the Ministry of Defence & Urban Development, together with the provincial and local authorities, has undertaken a range of programmes throughout the country to uplift the quality of the country's metropolitan areas. The focus is on developing clean, green, people friendly cities and towns that will foster an efficient working environment and a relaxed living environment.
In Colombo, a lot of work has been done in the recent past to address the many issues that the city faced due to its organic growth over the last few decades. The Government is shifting its administrative functions to the Sri Jayawardenepura area, so that Colombo will have more space in which to grow as a world-class commercial hub. Old infrastructure that had been largely neglected, such as the canal network and the drainage and sewerage systems, is being improved. Plans are in place to augment and improve the efficiency of water supply distribution and electricity transmission. Management of municipal solid waste is another area that has received considerable attention in the recent past. Studies are presently being conducted on how to address this issue successfully in the long term. There are also studies being conducted with a view to easing traffic congestion in the city, with the introduction of a mass transit system being seriously considered as a solution.
Much work is also being done to regain Colombo's former reputation as the Garden City of the East. Urban life has been rejuvenated with the establishment of public open spaces for people to exercise, socialise and relax in. The quality of the waterways and the Beire Lake in the city centre is being improved. This will enable more recreational activities to take place on and around the water bodies, whilst also uplifting the natural character of the city. Walls that had been erected in public places due to security concerns stemming from the war have been removed, opening up new vistas of greenery and beautiful architecture for people to see and enjoy. Landmark historic sites such as the Dutch Hospital, the Colombo Racecourse and the former Auditor General's Department complex have been renovated and given a new lease of life. These sites are becoming increasingly popular amongst locals and tourists alike, and are contributing to the city's new vibrancy.
It should be noted that international investors and the local private sector alike have seized upon the many opportunities being created through these programmes. Over the next decade, the quality of Colombo's real estate and its skyline will transform dramatically as world-class hotels, apartment complexes, office buildings and entertainment venues are established here. [The majority of the buildings shown on these slides represent projects whose development is already well advanced]. These developments and other programmes of the Government, will help transform Colombo into one of the leading commercial hubs in the South Asian region. It is in fact distinctly possible that Colombo will soon become South Asia's World City. It will be the dynamic centrepiece of a country that is fast achieving its aspiration to be the Wonder of Asia.
Apart from the metro Colombo region, the Government has also focused on uplifting the standards of other key urban centres. A great deal of attention has been paid to the uplifting of Hambantota. Assisted by the establishment of the Harbour and the close-by Mattala International Airport, Hambantota has enormous potential to develop as an industrial and logistics hub as a result of its location in close proximity to one of the busiest Sea Lanes of Communication in the world. There is considerable private sector interest in the development of this region as well. Steps have also been taken to improve the quality of well-established cities such as Kandy and Galle. Smaller cities such as Anuradhapura, Jaffna, Matara, Nuwara Eliya and Trincomalee are also being developed rapidly so that the quality of life of their residents and visitors will also be improved.
In parallel to these urban development efforts, the Government is also improving transport infrastructure so that travel time within and between these cities will be improved dramatically. The creation of the Expressway network is a key undertaking in this regard, as is the upgrading and expansion of the railway network. Through the uplifting of road and rail, and the upgrading of smaller, regional airports to facilitate domestic air travel, cities throughout the country as well as Sri Lanka's many wonderful tourist attractions are becoming much more convenient to access.
Sri Lanka is a nation blessed with wonderful sandy beaches, serene hill country stations, sprawling wildlife parks and many beautiful ancient cities steeped in history. There are world-class luxury and boutique hotels in close proximity to most of these attractions, and more facilities are coming up every year. Knowledge workers and other professionals who choose to live and work in Sri Lanka have ample opportunity to enjoy these high quality holiday destinations that exist throughout the country.
With all of the developments and opportunities noted during this address and in the preceding speeches, it is clear that Sri Lanka has tremendous potential to develop much further. The Government is keen to work with the private sector and civil society to overcome the issues the nation faces in order to realise this potential. During the rest of this Conference, I trust that you will discuss ways and means to overcome these issues and to steer Sri Lanka towards a much brighter future. The nation needs your contributions to thrive. Together, I have every confidence that we can transform this country not only into Asia's next Knowledge Hub, but also the Wonder of Asia.
Thank you.
(Source: Government News Portal)