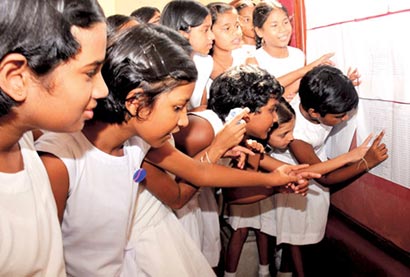 The JVP-led Ceylon Teachers' Service Union (CTSU) yesterday said it would file legal action against the Education Ministry's decision to put an end to the Grade V scholarship examination from 2016.
CTSU General Secretary Mahinda Jayasinghe told The Island that they would also launch a protest against stopping the Scholarship examination, which was the only chance rural students had to enter popular schools.
At a press conference last week, Education Minister Bandula Gunawardena announced that the Grade V scholarship examination would not be a competitive exam from 2016 and it would remain only to test the knowledge level of students like a term test. After 2016, students would have to sit for only one paper, which will be of one hour and 45 minutes duration.
Citing some examples, Jayasinghe said that the students from the Eheliyagoda Central College and Rathnawali Balika Vidyalaya, in Gampaha, who obtained the highest marks in the Bio Science and Commerce streams at the GCE (A/L) examination 2013 had entered those schools by passing the Grade V scholarship examination.
"It is very unfair for the government deprive other children the opportunity to enter popular schools," he said.
Responding to the government's plan to develop 1,000 secondary schools in the country, at the rate of at least one per Divisional Secretariat and nine new schools for each province, named after President Mahinda Rajapaksa, as an option to popular schools, he asked what assurance could be given that those schools would be completed before 2016.
The government started the project in 2011, but there were still only for the foundation stone for secondary schools, Jayasinghe said, adding that some 'Mahindodaya' Technical laboratories could not be opened due to lack of equipment.
(Courtesy: The Island)