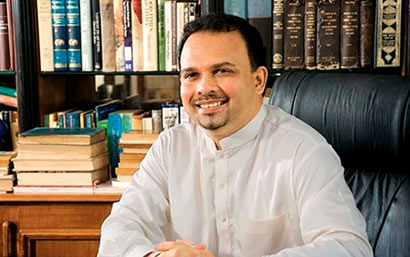 Minister of Sports Navin Dissanayake says that when awarding local terrestrial broadcasting rights for the next three years (2015-2018), they had thoroughly perused the technical capability and island-wide coverage of the stations who had forwarded bids.
Sri Lanka Cricket (SLC) awarded local television broadcast rights for the next three years (2015-2018) to the State-run Sri Lanka Rupavahini Corporation, rejecting a considerably higher bid from Carlton Sports Network (CSN).
The minister in an interview with Ceylon Today said that though certain stations had forwarded significantly higher bids, they had thoroughly investigated whether such television stations had the capacity to stick to such exorbitant sums which had been quoted.
"The highest bid was forwarded by CSN but it was not viable in our eyes," the minister said. "But they are currently facing several probes regarding their financial status. And another fact is that though they had put forward a very large bid, their financial status does not indicate whether they will be able to pay such an amount during the course of the agreement with SLC.
That was one of the sticking points for us, as far as CSN was concerned. Afterwards, we told them to provide us with a Bank Guarantee and we gave them another opportunity. But the Bank Guarantee that was given to SLC by CSN does not indicate the normal conditions applicable to a Bank Guarantee. Hence, we decided that CSN would struggle to pay us the figure they had quoted. Furthermore we also had reservations regarding the island-wide coverage of CSN. And the TRC also failed to give us a report concerning the nationwide coverage of CSN. Also we came to know that they had sent a letter to the minister of media stating that they are struggling to pay the Rs 1,000 million annual tax," said the minister, further explaining the reasons behind rejecting the bid of CSN.
When contacted CSN's Director of Sports Gihan Samaranayake revealed that the SLC interim committee chairman had only asked them if they could provide a bank guarantee for a hundred per cent of their bid.
"Then after consulting our bank, we informed them we can. Then they suddenly informed us that they needed a specimen of the bank guarantee on the following day. When we asked the bank, bank asked us to get a document called letter of intent from SLC in order to issue a bank guarantee. But SLC completely ignored it," said Samaranayake.
The CSN Director of Sports further added that when they had been even willing to pay the bid worth Rs 175.5 million in cash through a letter which they had informed the SLC interim committee on 5 June before 10 a.m., the SLC interim committee without even replying to that letter, had rejected the bid by CSN in favour of Rupavahini.
The tenure of the rights begins with the Pakistan tour of Sri Lanka, which starts this month. CSN had been the previous holder of the television rights for international cricket in Sri Lanka.
(Source: Ceylon Today)