FCID illegal, therefore whole process not lawful, say counsel
Posted by Editor on June 7, 2015 - 8:42 am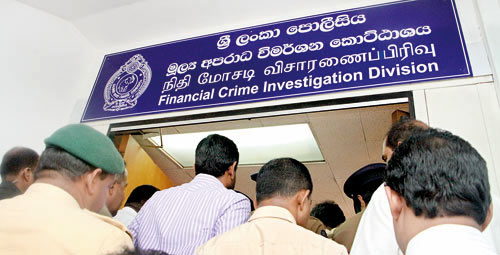 Continuing submissions in the fundamental rights applications filed by former Economic Development Minister Basil Rajapaksa and three others, counsel for the petitioners argued that since the setting up of the Financial Crimes Investigation Department (FCID) has been illegal, therefore the whole process including the arrests were illegal.
Former Economic Development Ministry Secretary Dr.Nihal Jayathilake, former Divineguma Department Director General R.A.A.K. Ranawaka and former Additional Director Bandula Thilaksri are the others who have filed fundamental rights applications seeking relief including their release from custody.
The petitions were taken up before a Bench consisting of Chief Justice K.Sripavan, Justice Priyasath Dep and Justice Rohini Marasinghe. Former Minister Rajapaksa who was represented by Romesh de Silva, PC., told court that the current government has limited the investigations into the activities of the 'previous regime' only and targeting them to take political advantage.
"Following the decision in the National Executive Council (NEC), political enemies of the previous regime have decided to launch investigations into the alleged financial irregularities that occurred in that regime. Then a Cabinet decision was reached to set up the FCID. There is no legal validity for this division in the way it has been set up, Even the Inspector General of Police (IGP) cannot create such a unit in the department," Mr. de Silva said.
He said that an anti-corruption arm functioning under the Prime Minister's Office is coordinating the investigation with a biased intention, to take political advantage. Directives to the FCID are issued to start investigations on specific people only since the public cannot complain directly.
"There was no arrest warrant issued for Mr. Rajapaksa. He informed court, through his lawyer Palitha Fernando, that he was undergoing medication in the United States and on his return to the country he will present himself to the courts. Following the day of his arrival he appeared before the FCID. The investigations started around 11a.m. and went on till 7 p.m.. and he requested the officials that he had to refer some documents and sought an adjournment. But they arrested him immediately. This is an arbitrary arrest made to kep him in custody," he said.
He questioned the manner the FCID director asked the Kaduwela Magistrate to produce Mr. Rajapaksa after he was arrested. He said the prison bus was brought to the courts even before the magistrate remanded him. Manohara Silva, PC., who appeared on behalf of Bandula Thilaksri, Additional Director said the purported investigations into the ministry officials came from selective complaints from individuals.
"A complaint was received from an individual and investigations commenced on March 3. Then the Anti-Corruption committee issued directives to arrest my client. As a public servant he has carried out duty as he was asked by his superiors. The whole thing was fabricated when these arrests were made," he said.
He pointed out that those who were arrested were never accused of taking public funds or money for their own use. They did not misuse their official powers vested in them, but were charged under money laundering and abuse of public property in order to prevent them from obtaining bail as it is a 'non bailable offence'.
"The jurisdiction of the Kaduwela Magistrate's order is questionable. The pre-requisites have to be satisfied before the judge remanded them. The 'B' report doesn't say that he was involved in cheating but the magistrate's order says so," he said. Counsel Sanjeeva Jayawardena, PC., representing Dr. Nihal Jayathilake said the manner of establishing the FCID was questionable and added any bureau of investigation should be created with the Defence Ministry's approval which was not obtained in this case.
He said the continued detention of his client is illegal since he was arrested in a wrongful manner by a illegally set up unit of the police.
Counsel Ali Sabri, PC., appearing on behalf of Divineguma Department Director General R.A.A.K. Ranawaka said the allegation of distributing money deposited in the Samurdhi Bank to beneficiaries should have come from the management committee of that bank and not from someone else who doesn't have any authority, but he was arrested following an individual's complaint.
He said in a Cabinet memorandum submitted it says certain individuals in a particular department had been found guilty. He questioned how the Cabinet has found these individuals guilty without any initial investigations and now they have been detained.
"These arrests are pre-planned and certain persons are targeted based on very specific complaints received, whereas a layman cannot complain against a minister in the current government. When one goes to the FCID to complain, one is directed to the Anti-Corruption Secretariat set up in Temple Trees," he said.
Further hearing has been fixed for June 12, 24 and 25.
(Source: The Sunday Times)
Latest Headlines in Sri Lanka