Dawn of New Year brings fresh thoughts, feelings – President
Posted by Editor on April 13, 2012 - 7:23 am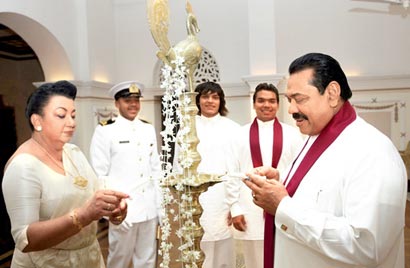 May the traditional Sinhala and Tamil New Year that has dawned be one that brings peace, joy and prosperity to all, President Mahinda Rajapaksa said in a New Year message.
The message: " The traditional New Year is a truly great national festival that shows the remarkable bonds between nature and human kind. The dawn of this New Year brings fresh thoughts and feelings to our hearts.
"It paves the way to look at our lives and society with renewed determination and courage. The New Year becomes more meaningful through the embellishment of friendship and unity. Therefore, it is best if every step is taken to build good relations and cooperation with each other during this season of festivity.
"The observance of the many important traditions associated with the New Year strengthens great unity and understanding between family and village. Such unity is a great encouragement to solidarity for national prosperity. As the country moves towards prosperity, the observances of these traditions by all at the auspicious hours would bring great blessings. I, therefore, call upon you all to pay due importance to the observance of the New Year traditions. " I express my sincere gratitude to the members of the Armed Forces, the Police and Civil Defence Corps and all others who carry out their official duties during this period of festivity.
" I wish you all a happy New Year."
Source: Government News Portal
Latest Headlines in Sri Lanka