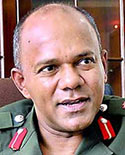 Major General Daya Rathnayake has been appointed as Commander of the Sri Lanka Army with effect from 1st August while being promoted to the rank of Lieutenant General, the Defense Ministry said today.
Meanwhile incumbent Army Chief General Jagath Jayasuriya has been appointed as Chief of Defence Staff with effect from August 01, the ministry said.
Present Chief of Defense Staff Air Chief Marshal Roshan Goonetileke will relinquish his position on the same day.
Lieutenant General R.M.D Rathnayake, more popularly known as 'Daya Rathnayake' is currently the 43rd Chief of Staff in the Sri Lanka Army (since February 2010). He will become the 20th Army Commander of Sri Lanka.
He was previously the Commissioner General, Rehabilitation of former LTTE combatants and Colonel of the Regiment, Sri Lanka Light Infantry (SLLI) since 6th August 2009 and 16th August 2009 respectively. His dedication and contribution for Rehabilitation of ex-LTTE combatants under Ministry of Justice has won him plaudits from all quarters both at local and international levels.
Lieutenant General Rathnayake, to his credit served as Military Spokesman between 2004-2006. He served as Commander, Forward Maintenance Area (North) from August 2007 to August 2009. Rathnayake was also the General Officer Commanding, 23 Division from December 2005 until up to August 2007 during the peak of Humanitarian Operations in the East.
Some of other prestigious and key appointments, held by Lieutenant General Rathnayake to-date are as follows:
Chief of Military Staff at MoD (2003-2004), Area Commander, Kandy (2002-2003), Commandant, SLLI Regimental Headquarters (2001-2002), officiating Commander for 533 & 534 Brigades (1998-2000), Commanding Officer, Officer Cadet Training Wing, Sri Lanka Military Academy, Diyatalawa (1996-1998), Regimental Adjutant, SLLI (1991-1992) and a few other appointments including those in the Unit between 1981-1992.
Lieutenant General Rathnayake as an Infantry officer has followed a number of local and foreign training courses during his illustrious career. Commando Officers Course (India), Infantry Young Officers Course (India), Battalion Special Weapons Course (India), Infantry Staff Officer Course (USA), Junior Commander Course (India), Staff Course (Bangladesh), Senior Commander Course (India), Infantry Course (USA), Management Course (India) and National Defence University Course (China) are among a few of them.
Rathnayake, a prominent product of Kurunegala Maliyadeva College joined the Army on 6th February 1980 and received his commission as 2nd Lieutenant on 18th July 1981.
(Courtesy: Ada Derana)