President Rajapaksa in Kilinochchi: You Have the Freedom to Select Your Representatives
Posted by Editor on June 16, 2013 - 7:37 am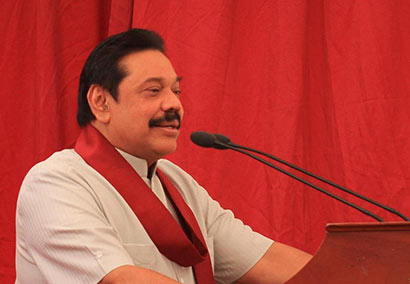 President Mahinda Rajapaksa, who was in Kilinochchi today, said elections to the Northern Provincial Council will take place as planned, and that the public will have the opportunity and the independence to select the representatives who will bring further development to the region.
"We are in the process of restoring everything that was destroyed during the past 30 years; You all need protect them," President Rajapaksa said, speaking in Tamil. "The war was 30 years. Development has been four years. Look at the difference. Your region is developing very fast. It should be developed more."
The President also said that communal politics is very dangerous and that the country doesn't need narrow political ideals. He urged people not to believe false publicity, noting that he believes the people will make a decision that won't ruin their children's future.
Having declared open a renewed section of the A-9 road (the main northern highway) and a new airstrip in Iranamadu, a short distance from Kilinochchi, President Rajapaksa said that during the past four years, the region has seen many new facilities in a number of sectors including housing, road development, power, education, health, trade and banking.
"We'll continue to provide more facilities," President Rajapaksa said.
(Courtesy: President Media)
Latest Headlines in Sri Lanka