Defence Secretary at opening ceremony of Narahenpita Police Station new building: Law enforcement, a top priority
Posted by Editor on January 17, 2012 - 7:48 am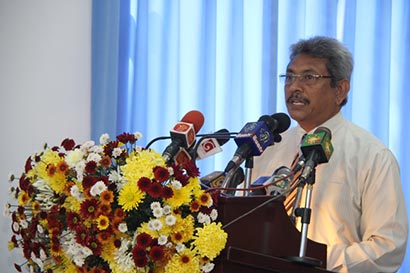 'The Police has to play a vital role in the country's development. The government has given more strength and freedom to the Police to act independently, which is essential to protect peace and harmony in society to successfully realize its development objectives.
'The Police has no excuses to shirk its duties while presenting various excuses for its lapses, Defence and Urban Development Ministry Secretary Gotabhaya Rajapaksa said.
"We defeated terrorism two and a half years ago. We now have to defeat other illegal activities such as underworld gangs, illicit drug dealers and robberies. The Police is meeting this challenge in a very successful manner," the Defence Secretary added.
He was addressing the opening ceremony of the new building of the Narahenpita Police Station at 560, Elvitigala Mawatha, Colombo 05 yesterday.
The building has 10 storeys – three for the police station and the other seven storeys for official quarters.
The Defence Secretary said that the Police had initiated a number of new programmes to create a peaceful society. "All these programmes should be followed till they bear results. The society as a whole depends on the Police for their protection. The government will provide it assistance towards this end," he said. There will be no barriers or impediments for the Police to carry out their duties, the Defence Secretary said.
'On the contrary, a peaceful environment will help achieve the government's development targets easily, Rajapaksa said.
"President Mahinda Rajapaksa had led the country to peace after defeating terrorism.
'The Defence Secretary provided support to the President together with the three Forces towards achieving this goal," Water Supply and Drainage Minister Dinesh Gunawardena said.
'There is a reawakening in the police service. A number of new services have been introduced to protect peace and harmony in society," he added.
Police sources said around Rs. 121 million have been spent for the first part of this project while nearly Rs. 57 million was spent for the second phase. Finance and Planning Deputy Minister Geethanjana Gunawardena, IGP N.K. Illangakoon, Senior DIG (Administration) Gamini Navaratne, Senior DIG (Western Province) Ashoka Wijethilaka, DIG (Colombo) Anura Senanayake and Public Services Commission chairman Dayasiri Fernando also participated.
The telephone numbers of this new police station:
OIC – 011-2588638
Fax number – 011-2552279
General number – 011-2368242
OIC (Crimes Investigation Division) – 011-2587205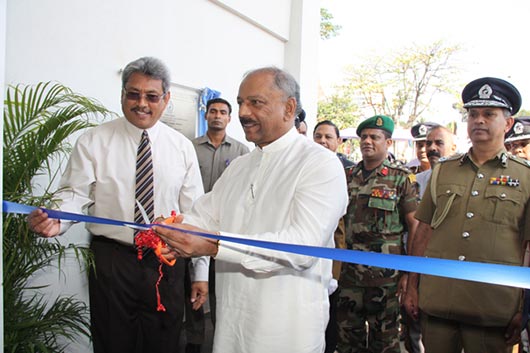 Courtesy: Daily News / Ministri of Defence
Latest Headlines in Sri Lanka