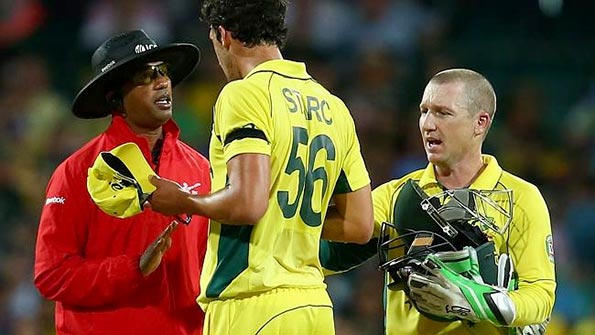 Sri Lanka's Kumar Dharmasena and England's Richard Kettleborough will be the on-field umpires for Sunday's World Cup final between Australia and New Zealand in Melbourne, the International Cricket Council (ICC) said on Friday.
Marais Erasmus of South Africa will be the television umpire, with Sri Lanka's Ranjan Madugalle the match referee.
Both Dharmasena and Kettleborough stood in Australia's 95-run semi-final win over defending champions India at the Sydney Cricket Ground on Thursday where they both intervened, at different stages, to prevent an escalation of sledging as tempers became frayed.
Erasmus was the television umpire in that match as well.
England's Ian Gould, who stood in the first semi-final between New Zealand and South Africa, will be the reserve official for the final.
Australia's Rod Tucker, Gould's on-field colleague at Auckland's Eden Park, was ruled out of a role in the final after Michael Clarke's men beat India at the SCG.
(AFP / Dawn)