Dialog Axiata in another South Asian regional first; Has high regional download speed of 127 MBPS:
Posted by Editor on May 9, 2011 - 8:58 am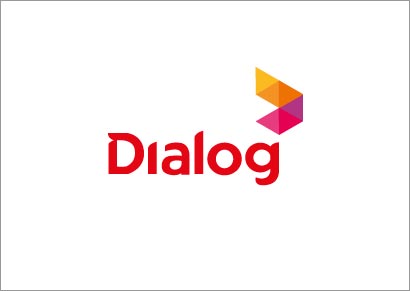 Sri Lanka's flageship telecommunications operator with the largest subscriber base – Dialog Axiata PLC – on Saturday created regional history when it became the first South Asian corporate to roll out the 4th Generation Long Term Evolution (LTE) pilot network.
The local blue chip also repeated history after being the first South Asian corporate to launch the 3G technology in 2006.
The highlight of Dialog Axiata is that it is the first South Asian corporate to have the supporting infrastructure to implement the test runs for LTE technology.
The pilot network was switched on by Telecommunications Regulatory Commission of Sri Lanka Director General Anusha Pelpita. Download speeds were displayed on the screen while streaming high quality videos over the Internet with download speeds of 127 megabytes per second achieved, the highest in the region.
While the network had 127 MBPS indoors, outdoor speeds reached up to 55MBPS.
in relatively lighter vein, Pelpita also engaged in a high definition motor racing game played on the internet against Dialog Axiata's Chief Operating Officer Supun Weerasinghe.
Dialog has commenced it as a pilot project in five zones within the city of Colombo – Fort, Slave Island, Colpetty, Bambalapitiya and Narahenpita. "We have deployed over 10 base stations as we have coverage in the Colombo city, but though it is not continuous, but outdoor coverage gives a speed of between 30 and 50 megabytes and we have tested it in the streets of these zones," he said.
Pelpita, in his brief opening remarks at the launch, congratulated Dialog on embarking on a bold initiative on setting up a pilot LTE project. He said that Sri Lanka had been consistently at the helm of introducing technology in the region.
The TRCSL is proud to note the achievement of the operators. Sri Lanka is proud about the achievements of the mobile sector in delivering mobile voice and broad band services to the Sri Lankan consumers at a very affordable basis which has driven the penetration of voice services close to 80 percent of the broadband services which are enjoying rapid growth. Dialog's initiative to set up the Pilot LTE Network and introducing the next generation of broadband technology to the Sri Lankan market will no doubt add further impetus towards the achievement of the government's objective of making quality broadband services available to all citizens, he said.
Dialog's pilot LTE network has been built in partnership with Huawei Technologies of China and will be used as a platform for the demonstration of LTE capabilities in an urban environment. Consumers are invited to experience the ultra-fast data speeds delivered via LTE technology at Dialog's Future World (at Darley Road). The network also provides outdoor coverage across key zones across Colombo Fort, Colombo 2, 3 and 4 and Narahenpita.
In line with its promise to deliver The Future Today, Dialog was the first to roll out a commercial 3G network in South Asia in 2006, and has since advanced its high speed mobile broadband services through the introduction of HSPA and HSPA+ technology evolutions delivering peak speeds of up to 42 MBps.
Dialog's High Speed Mobile Broadband services are available across all key towns and cities and have succeeded in empowering consumers from all provinces with affordable broadband services.
Commenting on the company's initiative to implement a 4G pilot network, Dialg Group Chief Executive Officer (CEO) Dr Hans Wijayasuriya said, "Dialog is proud to have the opportunity of carrying out an LTE trial in Colombo city.
Technology life cycles are shrinking with each successive generation of technology and we are committed to make our network infrastructure compatible with the very latest technology and to provide our customers with network capability on par with the most developed markets in the world.
The progressive policies of the TRCSL have enabled Sri Lanka to lead the region in this respect. LTE implementations are still in a nascent stage in most markets with terminal (dongle) availability being significantly limited.
However, as we have seen in the case of 2G as well as 3G-HSPA, terminal availability cycles are accelerating and there is no doubt that LTE will be a fore-runner among high speed broadband technologies in the years to come.
Dialog will build on the learning from the pilot network, to leverage the strengths of LTE technology towards making the 4th generation broadband services available and affordable to our customers from across all parts of Sri Lanka."
Courtesy: Daily News
Latest Headlines in Sri Lanka