Disaster Management Minister tours worst affected Eastern Province.
Posted by Editor on January 10, 2011 - 1:26 pm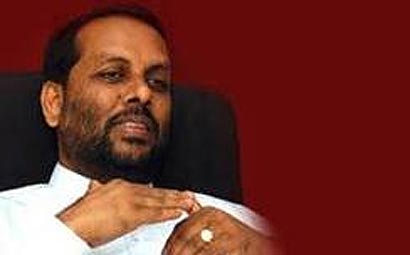 Minister of Disaster Management Mr. Mahindananda Amaraweera has proceeded to Ampara District on a fact finding tour to see the people affected by floods in the District with several lorry loads of relief assistance items including tents, food, drinking water and other essentials.
Mr. Amaraweera said that he will be touring the whole of flood affected areas in the Ampara District today and would make arrangements to rescue the affected masses and provide them on the spot solutions. He said tomorrow he will proceed to Batticaloa District and would see to the needs of the affected people in the Batticaloa District. The Minister further said that Sri Lankan Army and the Navy is assisting the relief operation team of his Ministry in the rescuing and other operations.
Meanwhile, the Assistant Director of the National Disaster Management Centre Pradeep kodippili said that 482,830 persons belonging to 127,980 families in the Batticaloa District and 306,998 persons belonging to 80.410 families in the Ampara District have been affected by the floods, the worst affected two districts in the island. The number of persons affected islandwide amounts to 819,759 persons belonging to 215,986 families.
As regards the earth slip in Gatambe in the Peradeniya road which made a huge rock topple on 5 houses ,Mr. Kodippili said that already 4 dead bodies have been recovered and 6 persons have been rescued, and the Sri Lanka Army is assisting the Disaster Management Ministry team in this rescue operation. Transport services including train services have come to a standstill in many areas in the hill country, and schools have also been closed in the Kandy district.
Source: Government News Portal
Latest Headlines in Sri Lanka