Humanitarian mission with zero civilian casualties – President.
Posted by Editor on January 11, 2011 - 1:16 pm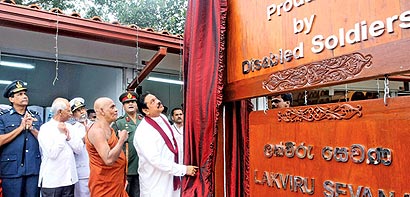 'Lakviru Sevana' Sales Complex to market products made by disabled war heroes was unveiled by the President Mahinda Rajapaksa on Monday (Jan 10) at 272, Denzil Kobbekaduwa road, Battaramulla.
The sales complex was built under the patronage of Ven. Elle Gunawansa Thero with the co-operation of the Dharmayathanaya Trust.
At the inauguration ceremony President Rajapaksa said that, Sri Lanka as a whole had to suffer for 30 long years due to the conflict because of betrayals, subjugations and blunders made in the past. He was of the opinion that Sri Lanka could have seen an end to the conflict much earlier if certain administrators in the past had engaged in prudent and selfless decision making on behalf of the country without playing with petty-politics with ulterior motives. If it was so the devastation caused by it to both man and property could have been avoided to a great extent.
"Sri Lanka with a collective effort had risen to the challenge with bravery, national pride and patriotism to defeat the forces of terror. We conducted a humanitarian mission. The Eastern Province liberation with zero civilian casualties is an example to others," he said.
Further speaking President Rajapaksa said that in the aftermath of the conflict the Security Forces today were productively contributing to the development initiatives and public assistance programs in the country and praised the efforts made by Ven. Elle Gunawansa Thero to encourage war heroes by initiating the 'Lakviru Sevana" Sales Complex.
Source: Government News Portal
Latest Headlines in Sri Lanka