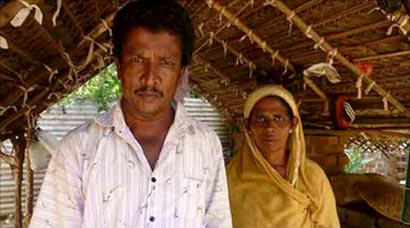 Distraught family members of a Sri Lankan maid beheaded in Saudi Arabia have asked for her remains to be flown home, a family friend said today, amid growing anger at the execution.
The family of Rizana Nafeek was in shock after hearing of Wednesday's beheading and was pleading with the authorities to bring back her body, said the friend, Abdul Jihad, in the eastern village of Muttur.
"The family is completely heartbroken," Jihad, 46, said. "They want Rizana's body brought back, although we have been told that they have already buried her."
Jihad, a science teacher at a local school who had taught Rizana, said Sri Lankan authorities had earlier raised the family's hopes with repeated appeals for clemency, the latest over the weekend by president Mahinda Rajapakse.
"The villagers will pray for her tomorrow after the Friday prayers," Jihad said, adding that Rizana had travelled to Saudi Arabia in 2005 to work as a housemaid when she was barely 17.
She had hoped to earn enough to build a house for her family, which lives in a makeshift home. "The mother is still in shock and her father is very ill and will be hospitalised soon," he added.
Rajapakse has deplored the execution. The European Union expressed dismay and said it had asked Saudi authorities to commute the death penalty.
Parliament observed a minute's silence on Wednesday while some lawmakers called for a ban on sending local women to Saudi Arabia to work as housemaids.
Human rights groups have condemned the beheading, noting that Nafeek was just 17 when she was accused of killing the baby of her Saudi employer.
She was found guilty of smothering the infant after an argument with the child's mother, the Saudi interior ministry has said.
Human Rights Watch said Nafeek had retracted "a confession" that she said was made under duress. She said the baby died in a choking accident while drinking from a bottle.
"In executing Rizana Nafeek, Saudi authorities demonstrated callous disregard for basic humanity as well as Saudi Arabia's international legal obligations," the New York-based watchdog's senior women's rights researcher, Nisha Varia, said.
Last year Saudi Arabia beheaded 76 people, according to an AFP tally based on official figures. HRW put the number at 69.
AFP reports