Sri Lanka lawyers in boycott over attempt to fire top judge
Posted by Editor on January 10, 2013 - 10:06 pm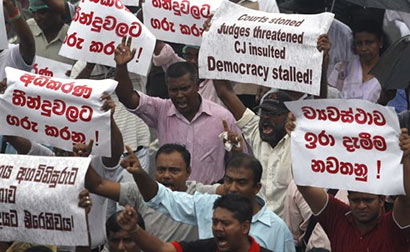 COLOMBO (Reuters) – Sri Lankan lawyers boycotted courts on Thursday in protest at government attempts to fire the country's most senior judge, which they branded an attack on judicial independence.
The United States, the United Nations and the Commonwealth have also raised concerns that the move to impeach Chief Justice Shirani Bandaranayake, on charges including financial irregularities and failure to declare assets, threatens the independence of Sri Lanka's courts. The Supreme Court has declared the impeachment attempt illegal.
Thousands of protesters including lawyers, opposition politicians and religious leaders marched from the Supreme Court to the commercial heart of the capital Colombo despite rains and counter protests by pro-government supporters.
Some carried placards reading "stop tearing up the constitution", "respect the court rulings", and "court stoned, judges threatened, chief justice insulted, democracy stalled!".
They were prevented by police from proceeding to parliament, which began a debate on whether to impeach Sri Lanka's first female chief justice and will hold a final vote on Friday.
Government and judiciary have been on a collision course since President Mahinda Rajapaksa's ruling party filed an impeachment motion against Bandaranayake on November 6. A month later, a parliamentary panel found her guilty of irregularities.
The government, which has a two-thirds majority, needs 113 out of a maximum possible 225 votes to remove Bandaranayake.
The accusations against Bandaranayake arose after she ruled that a bill submitted by the president's younger brother, Basil Rajapaksa, proposing an 80-billion rupee ($614 million) development budget must be approved by nine provincial councils.
The bill was passed in the parliament on Wednesday with a majority of 107 votes.
The International Commission of Jurists (ICJ), a non-governmental organization that promotes rule of law, said in a statement that government moves against the judiciary had brought the country "to the brink of a constitutional crisis."
"If the impeachment motion is passed in parliament in defiance of decisions of the country's judiciary, it will signal a massive breakdown in the rule of law and checks and balances," Sam Zarifi, ICJ's Asia director, said in the statement.
But Government Spokesman Keheliya Rambukwella said Bandaranayake had politicised the judiciary and that that "is very unbecoming of a chief justice."
In a note, political risk consultancy Eurasia Group said foreign investors' concerns about rule of law have been heightened by the row, but that domestic political costs for Rajapaksa are minimal.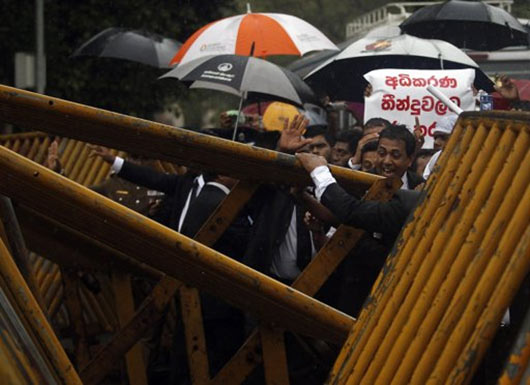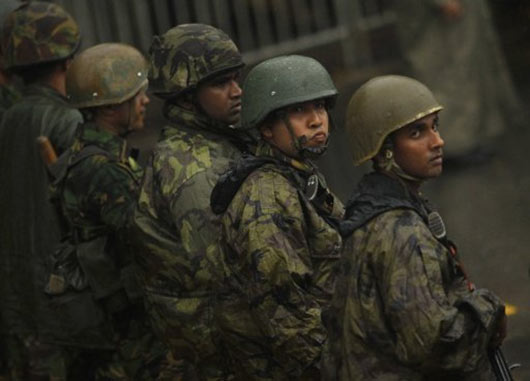 Reuters
Latest Headlines in Sri Lanka