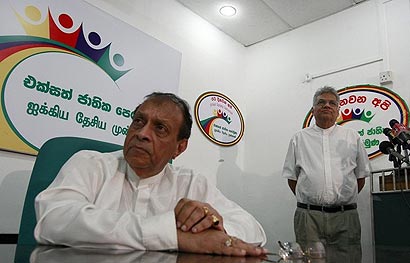 United National Party (UNP) Leader Ranil Wickremesinghe who is in Britain to attend a meeting of the Commonwealth Parliamentarians' Association broke his silence on the tussle for post of party leader and said he had assigned Deputy Leader Karu Jayasuriya to unite the party as asked for by a majority of the members.
But Mr. Wickremesighe who said this when he met central committee members of the London branch of the UNP had reportedly stopped short of saying whether he would step down as party leader.
He said Mr. Jayasuriya had informed him about meeting some members of the party.
Meanwhile UNP Badulla District MP Harin Fernando told a news conference that Mr. Wickremesinghe would meet Mr. Jayasuriya when he returned to the country on August 4 to discuss measures that should be taken to unite the party and convert it into a winning force and hoped Mr. Jayasuriya would succeed in uniting the party.  "I am confident he will bring Mr. Wickremesinghe, Sajith Premadasa and others together," he said. Mr. Fernando said he was deeply frustrated with the divisions in the party and stressed the need for all sections to join together and confront the government which was the common enemy.
He said different factions within the party should have discussed matters without criticising each other publicly.
Reformists say Ranil's statement unacceptable
UNP reformists yesterday said the statement made by party leader Ranil Wickremesinghe that he had assigned Deputy Leader to unite the party was unacceptable to them as a step towards resolving the crisis.
UNP Moneragala district MP Ranjith Madduma Bandara who represents the reformist camp told a news conference yesterday that it appeared the party leader was trying to apply delaying tactics.
Mr. Madduma Bandara said Mr. Jayasuriya would be appointed as party leader according to its constitution. "It is we who played a role in changing the party's constitution last year, and therefore we will uphold it without violating it," he said.
He said a discussion among top party members was already underway to come up with a specific course of action to make Mr. Jayasuriya the party leader.  However Mr. Madduma Bandara stopped short of mentioning whether the reformists would propose Mr. Jayasuriya's name as the leader at the next working committee meeting. "The party had failed to hold the working committee meeting after May 23," he said
Mr. Jayasuriya on Thursday responded positively to a request made by the reformists led by Co-Deputy Leader Sajith Premadasa to take over the leadership to end the divisions within the party. Referring to allegations made by several members that the reformists had created rifts within the party, Mr. Maduma Bandara said it was the other camp which created divisions by sidelining those who strived for changes in the party.
Courtesy: Daily Mirror