DMK FUNCTIONARY INVOLVED IN KILLING A FIVE YEAR OLD GIRL TO TAKE BLOOD AND SPRINKLE AS A VOW
Posted by Editor on May 1, 2012 - 9:23 am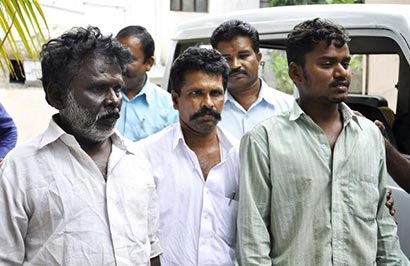 Onlanka News – By Walter Jayawardhana
New CID investigations revealed that a DMK functionary led gang has killed a five year old girl to take her blood to sprinkle around a large building as a vow of black magic in one of the most barbaric and eerie acts.
The Hindu reported: "The CB-CID on Saturday arrested three persons, including a Dravida Munnetra Kazhagam functionary, who allegedly masterminded the gruesome murder of a five-year-old girl in a hamlet near here in January 2011.
According to the police, A. Ayub Khan of Katchakatti, the DMK functionary, sprinkled the child's blood around a newly constructed building as part of fulfilling a vow.
On January 1, 2011, Rajalakshmi, the daughter of Thothan alias Thothal, a casual worker in Katchakatti, a hamlet near Vadipatti here, was found missing. According to her parents, she was playing in the locality with friends. The following evening, her body was found near a cattleshed.
As the police were in search of a couple of suspects, it came to light that Karuppu alias Malabar, one of the two who committed the murder, had cut his tongue and got admitted to hospital for treatment. The police grew suspicious of Karuppu's father Mahamuni (65) and arrested him. On March 9, 2011 Mahamuni, who complained of uneasiness and was admitted to Government Rajaji Hospital, died. A day later, when Karuppu attempted to give police the slip he fell down. He succumbed to injuries on March 11.
As the the girl's death remained a mystery, Director-General of Police K. Ramanujam ordered the CB-CID police to take up the investigation.
Speaking to mediapersons, Superintendent of Police (CB-CID) S. Rajeswari said the probe revealed that the child was killed by a gang that had at least four members in it. Ayub Khan, who was then the deputy chairperson of the Madurai district panchayat, was constructing a new building for a women's college.
As he could not complete construction even after two years, he was advised to sprinkle the blood of a girl child around the campus. Ayub Khan offered Rs.8.5 lakh to carry out the task. Mahamuni and Karuppu, the butchers, were lured by broker A. Murugesan (54) of Vadipatti and Ponnusami (22) and Lakshmi.
The police seized the anklets worn by Rajalakshmi from a pawn broker in the locality. They were pledged for Rs.600 by one of the accused. Ms. Rajeswari, the mother of the victim, who identified the anklets, said they were presented to her daughter on New Year's day. Ayub Khan had confessed to sprinkling the blood on the college campus, the SP said."
Latest Headlines in Sri Lanka