Mosque issue: Hakeem happy after talks with MR
Posted by Editor on May 1, 2012 - 9:19 am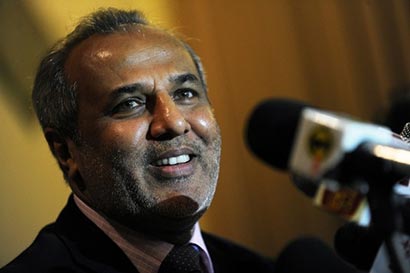 Sri Lanka Muslim Congress (SLMC) Leader and Justice Minister Rauff Hakeem said yesterday he had discussed the Dambulla Mosque dispute with President Mahinda Rajapaksa and that he was confident it would be resolved with justice to all.
"The President assured me he would not let the dispute get out of hand and will resolve the contentious matter without harming the interests of any individual or community," the minister said
He rejected the claim by Prime Minister D.M. Jayaratne that Muslim ministers had agreed to relocate the mosque within the Dambulla sacred area and said the government must not let chauvinistic forces and extremists to use these disputes to create political, religious and social unrest in the country.
The minister said not a single Muslim political leader or politician had agreed for the relocation of the mosque as claimed by the premier.
He said the United People's Freedom Alliance (UPFA) government was strong because it enjoyed the support of nearly all minority parties.
"Therefore, the government is able to come out unscathed from this sensitive issue and do justice to all concerned.  The UPFA government is committed to safeguarding the interests of the minorities and the SLMC believes the government will not deviate from this position," the minister said and singled out a particular FM channel for spreading false and fabricated propaganda with a chauvinistic flavor that gave vent to the protests by some extremist elements.
"If any one attempts to shift this mosque, which has existed since 1963 to another to another location will be considered as an unjust act, which goes against the sentiments of all Muslims in the country. We will not give into violence, intimidation or thuggery," the minister said.
He said there was the danger that even the global Muslim community which hither maintained a friendly relationship with Sri Lanka and even opposed the US resolution at the UNHRC sessions in March would look at Sri Lanka differently if something unnecessary or unwarranted happened over the Dambulla mosque.
"The SLMC and all Muslims without hesitation oppose moves to shift the mosque as it will result in dire consequences if anyone attempted to do so. There is no compromise on this matter and there is no need to collect funds or beg for money to relocate the mosque," the minister said adding that a small section of extremist elements were attempting to tarnish the image of Sri Lanka and the government taking advantage of free speech, free association and the free media.
Courtesy: DM Online / Pix by Getty Images

Latest Headlines in Sri Lanka