DMK opposes US move to bring in revised resolution
Posted by Editor on September 9, 2015 - 10:41 am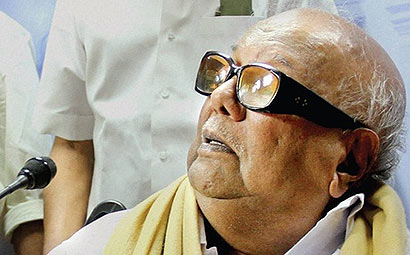 DMK today opposed any move by the US to bring in a revised resolution in a UN rights body on a probe into alleged rights violations in Sri Lanka, as reported in the media, and said India should not support it.
"It is widely reported in the press that the USA is going to bring in a totally revised resolution seeking a domestic inquiry into alleged war crimes and human rights violations during the peak of civil war in 2009," DMK President M Karunanidhi said in a letter to Prime Minister Narendra Modi.
This was "contrary" to their earlier stand demanding an independent international probe when Mahinda Rajapaksa was the Sri Lankan President, he said.
Karunanidhi said Sri Lankan Prime Minister Ranil Wickremesinghe was "believed" to have been "mobilising" support for the revised US resolution and that "he may like India to support" it.
"We and the diaspora Tamils are opposed to this sinister move. History will not forgive if India yields to this crafty design," Karunanidhi said in the letter.
Karunanidhi noted that six months had passed after Maithiripala Sirisena was elected as President but there had been "nil progress" on the promises made by him on Tamils' welfare.
The DMK chief urged Modi to take up with Sirisena and Wickremesinghe, during their forthcoming Indian visits, a series of issues pertaining to Tamils' welfare even as he reiterated his party's demand for a UN supervised "referendum" among Lankan Tamils.
"We firmly believe that this political solution of the choice of the Tamils will alone put an end once and for all to the problems of Sri Lankan Tamils," he said.
He also appealed to Modi to take up with Wickremesinghe during his India visit this month the issue of attacks on Indian fishermen allegedly by the Sri Lankan Navy.
"We, the people of Tamil Nadu and diaspora Tamils will be grateful to you for a very sympathetic and positive approach to wipe out the disgrace and dishonour suffered by the Tamils of Sri Lanka," Karunanidhi added.
It may be recalled that Sri Lanka has been subject to three UNHRC resolutions in 2012, 2013 and 2014 over alleged rights abuses and the last one had prescribed an international probe. India had backed the US-sponsored 2012 and 2013 UNHRC resolutions but abstained at the crucial vote last March.
(Source: PTI)
Latest Headlines in Sri Lanka