DMK's final warning to UPA over UNHRC Lanka resolution
Posted by Editor on March 18, 2013 - 11:51 am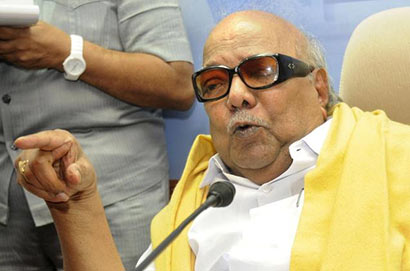 – Submitted by Walter Jayawardhana –
DMK President M. Karunanidhi on Sunday issued a final warning to Congress-led UPA Government saying that the DMK would certainly leave the alliance if India fails to take steps to incorporate suitable amendments to the draft resolution to be placed before the United Nations Human Rights Council (UNHRC).
"I said our continuation in the alliance would be meaningless if the amendments are not incorporated. Now I say we will certainly not remain in the alliance", he told reporters while releasing a copy of the letter sent to Prime Minister Manmohan Singh and UPA Chairperson Sonia Gandhi.
In the letter, he wanted amendments to declare that genocide and war crimes had been committed and inflicted on Eelam Tamils by the Sri Lankan Army and administrators.He also urged the establishment of a suitable and independent International commission of investigation in a time bound manner into the allegations of war crimes, crimes against humanity, violence of international humanitarian law and the crime of genocide against Tamil people.
Mr. Karunanidhi said that he was writing this letter with immense mental agony and feeling of having been let down by the Government of India. (Courtesy: The Hindu)
Latest Headlines in Sri Lanka