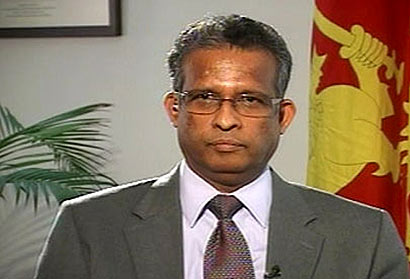 – Submitted by Walter Jayawardhana –
NEW DELHI: The resolution in the UN Human Rights Council against Sri Lanka is "uncalled for" and the international community should not get involved in the country, Sri Lanka high commissioner to India Prasad Kariyawasam said on Monday.
"First of all, resolution in UNHRC against Sri Lanka is uncalled for. That is our position, and we don't think there is need for the international community to get involved in Sri Lanka at this point, because we are doing what we have to do step by step," Kariyawasam told a TV channel.
"Any content of the resolution for us is really not helpful and it only creates ill feelings among communities both in Tamil Nadu and Sri Lanka and it unfortunately has created a sense of tension for nothing," he said.
On protests against Colombo in Tamil Nadu, Kariyawasam said: "(They are) uninformed, those who are agitating against Sri Lanka in Tamil Nadu have not visited Sri Lanka recently. They have never gone there, they are going by mere hearsay, and on the basis of lobbying by groups sympathetic to the LTTE abroad, who are living outside the country".
"The agitation has taken, sometimes, the form of terrorism, and some innocent Sri Lanka monks and pilgrims, some Tamils and Christians have been attacked. These are the kind of violent methods practiced by the LTTE sympathisers in the past in Sri Lanka," the envoy said.
"We feel very unsettled by this sort of happenings in Tamil Nadu and I think violence should not to be a means to settle any matter. We abhor that," he said.
United Progressive Alliance (UPA) ally DMK on Sunday threatened to pull out of the government if it did not take steps to bring amendments to the US-sponsored resolution against Sri Lanka in the UNHRC.
Sri Lanka is under attack over the death of a large number of Tamil civilians during the final stages of the war that crushed the Liberation Tigers of Tamil Eelam (LTTE) in 2009. (Courtesy: Times of India)