DO NOT ALLOW UN PANEL TO COME HERE, SAYS DR. GUNADASA AMARASEKERA
Posted by Editor on December 25, 2010 - 4:05 pm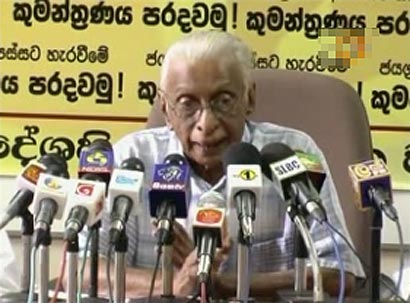 The panel of experts appointed by the United Nations Secretary General Ban Ki Moon is arriving in the island not to give evidence before the Lessons Learnt and Reconciliation Commission, but to confirm their recommendations, says the National Patriotic Movement.
This was stated by Dr. Gunadasa Amarasekera, Chairman of the Movement at a seminar titiled 'Defeat the coup to turn back the victory', held at the Sausiripaya auditorium yesterday.
"The panel as well as Ban Ki Moon have said that they are coming, not to give any kind of evidence, but to have discussions. In fact, many are confident that the main intention of these persons is to come into this country after getting some kind of permission.
"Once in this country, they will have discussions with NGOs. INGOs and LTTE sympathisers, and confirm their recommendations.
"As the National Patriotic Movement, we stress that these persons should not be allowed to come into the country," said Dr. Amarasekera.
Courtesy: News First
Latest Headlines in Sri Lanka