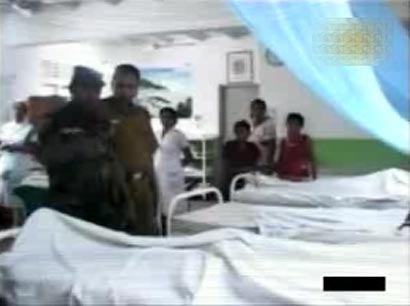 Six people from the same family were drowned when their boat capsized in the Mahasen tank in Welikanda, Polonnaruwa yesterday.
Among the dead are four females and two males including a two and a half year old child. Of the seven in the boat one had managed to escape. The person who escaped is believed to be the one who was rowing the boat, a boatman of the area.
According to Police, the six family members who had died in the boat tragedy had come from Gelioya, Kandy to visit a relative in Welikanda. On their way back they had stopped at the Mahasen tank in Maithrigama, Welikanda and later had asked a boatman of the area to take them on a ride across the tank.
The boat had capsized around 12.30 pm amidst stormy weather. The Police believe that the rain which prevailed during the time might have caused the tragedy.
According to the Police all bodies had been recovered and had been brought to the Welikanda hospital.
The post-mortem examinations was to be conducted later. The Police are conducting further investigations into the incident.
Courtesy: Daily News