Down but not out
Posted by Editor on April 4, 2011 - 8:37 am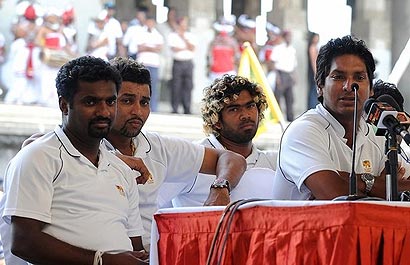 Sri Lankan skipper Kumar Sangakkara said that he was sorry to have disappointed the nation by missing on the World Cup but assured that the Lankan cricketers will win the World Cup the next time around.
Sangakkara said so at a grand reception organized by Sri Lanka Cricket at the Independence Square in the presence of hundreds of well-wishers and cricket lovers who thronged the venue yesterday morning to felicitate the team for emerging runner-up at the 2011th edition of the Cricket World Cup, making it two semi-finals in a row.
The team was given a red carpet welcome at the Bandaranaike International Airport yesterday morning and was escorted to the Independence Square in Colombo in a special motorcade. The reception was organized on a grand scale, where the players received greetings from their adoring fans on the way to Colombo.
Skipper Sangakkara said that he is proud of his team and commended the contribution made by each and every player.
"Every player did the best for the country. A few mistakes were made. But I am grateful for our achievement. Like all cricket lovers in the country, we also feel the pain of losing the cup. But we will learn from our mistakes and we will face future tournaments with our best effort and we will win the next World Cup, the Lankan Skipper asserted.
Asked about the future of his cricketing career and captaincy, Sangakkara said that he would let the public know about his plans within the next few weeks.
Spin Wizard Muttiah Muralitharan who announced his retirement from International Cricket, said that the batsmen had set up a good total on the board, but the Indian batsmen did well to chase down the target to win their second World Cup.
The off-spinner, who quit Tests last year with 800 wickets in 133 matches, ended with 534 scalps in 350 ODIs. Deputy skipper Mahela Jayawardena who scored an unbeaten 103 to score only the sixth century by a batsman at a World Cup final, said that it is not fair to blame the bowlers for the team's loss.
"Throughout the tournament, our bowlers did a great job and they were a key factor in confirming our place in the final," he said. The event saw the participation of thousands of cricket fans, former cricketers and politicians.
Courtesy: Daily News – Pix by Getty Images

Latest Headlines in Sri Lanka