Dr Nonis assumes office as new Sri Lankan envoy to Great Britain & Northern Ireland
Posted by Editor on September 2, 2011 - 9:13 am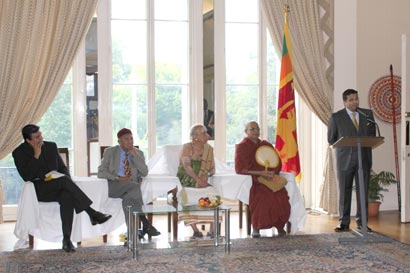 Press Release issued by the High Commission of Sri Lanka- London
(Submitted by: Janaka Alahapperuma)

Dr. Chris Nonis assumed office as High Commissioner for Sri Lanka to the United Kingdom today, 01st September 2011, at the Sri Lanka High Commission in London. Dr. Nonis will also be concurrently accredited to Ireland. He succeeds Justice Nihal Jayasinghe.
He studied medicine at the Royal Free Hospital Medical School, University of London and also obtained a First Class Honours Degree from Imperial College, London.  He spent his electives at Harvard Medical School Boston, USA and completed his postgraduate studies at Addenbrooke's Cambridge, Brompton and Hammersmith, and obtained his M.R.C.P. (UK).
He has lived and worked in both countries, in the public health sector in the UK , academia, international and civil society organisations, and the private sector.  He was appointed as the Deputy Chairman of the Royal Commonwealth Society (RCS) in 2008, and is the first Sri Lankan to hold this office in the RCS' 140-year old history. At the time of his being chosen as the Sri Lankan envoy to the UK and Ireland, Dr. Nonis was functioning as the Chairman of the Mackwoods Group of Companies, which was established in 1841.
Welcoming the new High Commissioner, Mr. P.M. Amza, the Acting High Commissioner said that Dr. Nonis would bring in a wealth of experience, gathered over the years working in different areas ranging from international business to international affairs. He recalled Dr. Nonis' long- term association with the Royal Commonwealth Society, and expressed confidence that his broad experience in multiple sectors in both countries will be of immense help in furthering Sri Lanka – UK bilateral relations at this important juncture.
Upon assumption of duties, High Commissioner Dr. Nonis said he would be committed to further enhance and strengthen the bonds between the two countries, building on their shared commonality of values. He commented that his diverse background developed in him an understanding and respect for the dignity and diversity of people irrespective of their background, and that it has also taught him a degree of empathy and sensitivity and a broader perspective of life.
Making specific reference to the conducive macroeconomic environment and emerging opportunities in post-conflict Sri Lanka, he said he would also attach importance to economic diplomacy while working closely with the host government towards greater collaboration and cooperation in all other areas of mutual interest.
Multi-faith religious observances by the Buddhist, Hindu, Islam and Christian priests were conducted to invoke blessings for the New High Commissioner and for peace and prosperity in Sri Lanka.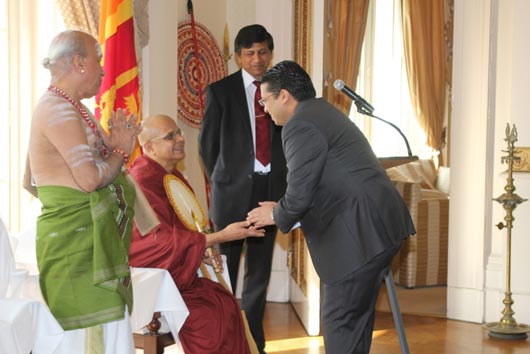 Latest Headlines in Sri Lanka