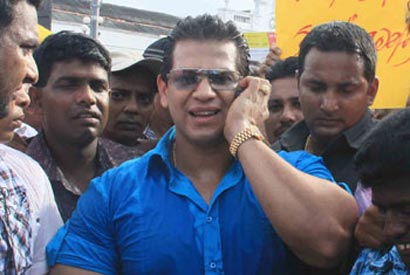 FILE PHOTO
UPFA Parliamentarian Duminda Silva who was in Singapore for medical treatment has reportedly arrived in the country in an Emirates flight early today, informed sources said.
They said that he had arrived in flight number EK 349 from Singapore and left the air port in a wheelchair.
MP Silva who was undergoing treatment at the Mount Elizabeth hospital, Singapore, had left the hospital in January this year and reportedly stayed at an apartment in Singapore.
He was critically injured the Mulleriyawa shooting incident in which Presidential Adviser Bharatha Lakshman Premachandra was killed in October 2011.
During the court proceedings the CID informed the court that Silva could not recall about the incident in Mulleriyawa. Mr. Silva is the prime suspect of Premachandra assassination case.
Following the shooting incident at Mulleriyawa Silva was admitted to the Jayawardanepura Hospital in Colombo and later he was admitted to the Mount Elizabeth hospital in Singapore November 01 in 2011.
On February 19, this year the Attorney General advised the CID to file charges against 13 suspects including parliamentarian Duminda Silva over the murder of Bharatha Lakshman Premachandra and two others in Kollonnawa.
Then the CID filed charges of murder, conspiracy, attempted murder and unlawful assembly with a common intention against the suspects before the Colombo Magistrates court.
(Courtesy: DM Online)