Stalin, DMK activists arrested for trying to picket Sri Lankan Mission
Posted by Editor on March 5, 2013 - 4:20 pm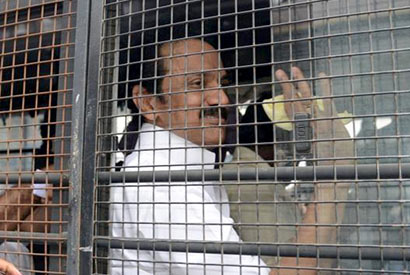 Submitted by Walter Jayawardhana
Stepping up pressure on Congress-led UPA Government, its key southern ally DMK on Tuesday demanded that India support the US-sponsored resolution at the UNHRC against Sri Lanka as over 4,000 people staged a protest against Colombo's alleged war crimes.
The resolution at UNHRC "will certainly succeed. Our strong demand is that India should also cooperate," DMK chief M. Karunanidhi told reporters.
Mr. Karunanidhi's son and DMK Treasurer M.K. Stalin led the protest under the banner of party-backed TESO (Tamil Eelam Supporters' Organisation) and as the 4000-strong protesters set out on a march to picket the Sri Lankan Deputy High Commission here there were arrested, police said.
Besides Mr. Stalin, other prominent leaders arrested included Dravidar Kazhagam chief K Veeramani and Viduthalai Chiruthaigal Katchi (VCK) founder and Lok Sabha member Thol Thirumavalavan.
The protestors raised slogans such as asking the Centre not to betray Tamils and not to underestimate Tamils' sentiments as they insisted that India support the US initiative.
Mr. Karunanidhi, who has been vocal in recent months on the Sri Lankan Tamils issue and revived the TESO, said theprotest was not just confined to the city but also held in different parts of the state.
The Centre should realise that these were not the efforts of one particular party but the "united voice" of people of Tamil Nadu, he said.
Government should "at least now come forward" to ensure the welfare of Eelam Tamils, he said adding "We hope Centre will come forward to better the livelihood" of Tamils.
In Delhi, DMK MPs attended Parliament wearing black shirts after staging a protest inside the Parliament House complex.
DMK Rajya Sabha member Kanimozhi said Tuesday's protest was aimed at pressing the central government to make its stand clear on the US-sponsored resolution. India had supported a similar resolution last year.
She demanded India support the resolution and sought fresh probe into alleged human rights violations in Sri Lanka, saying New Delhi should take the initiative in moving any such resolution in the future.
The Sri Lankan Tamils issue has generated heat again in Tamil Nadu in recent weeks following the alleged cold-blooded killing of slain LTTE chief V Prabakaran's 12 year-old son Balachandran, a charge denied by Colombo.
The issue was also raised in Rajya Sabha last week when DMK along with AIADMK and Left parties staged a walk out dissatisfied with the government's reply. The issue is likely to be discussed in the Lok Sabha on Thursday.
The Government has taken the stand that it cannot foreclose its position on the resolution, saying it would depend on actions taken by Sri Lanka. (Courtesy the Hindu)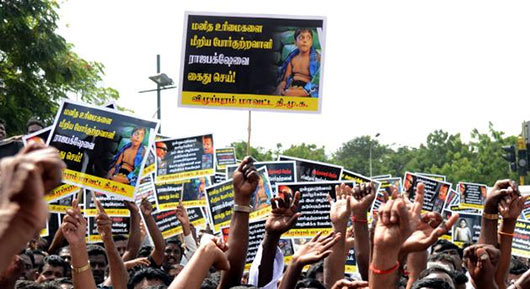 Latest Headlines in Sri Lanka