Duty imposed on buses, Lorries, tractors removed
Posted by Editor on January 10, 2012 - 5:36 pm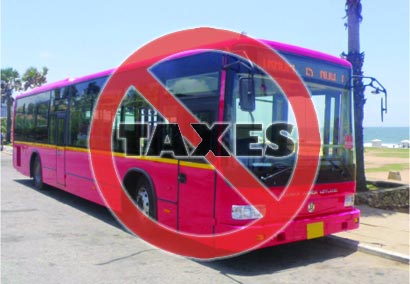 Customs duty imposed on buses, Lorries, tractors and new engines for Lorries have been completely removed.
The Ministry of Finance informs that the government has decided to reduce the duty charge for import of lorry and bus tires by 50 percent. This measure has been taken to encourage import of buses to help the tourist industry and to improve transport services. The Ministry of Finance informs that this measure was taken on a proposal submitted by the President in the budget.
Customs officials said that from January 01, value added taxes on buses, Lorries and trucks have been lifted giving effect to a proposal on the 2012 budget. Other items from which value added taxes have been lifted are raw materials used for spectacles and frames, sunglasses, perfumes, sports equipment, speakers and digital cinema equipment, photo sensitive semiconductor devices.
Value added tax have also been reduced on spares for poultry industry, sawn wood, mammoties, forks, moulding (steel, glass, rubber, plastic), machinery for rubber and plastic industries, greenhouses and poly tunnels. (niz)
Source: Government News Portal
Latest Headlines in Sri Lanka