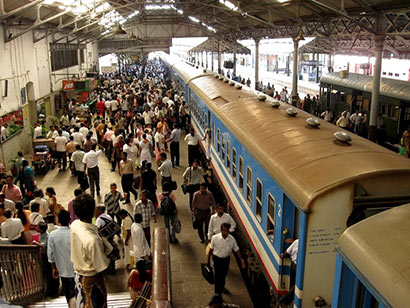 With the recently introduced E-ticket reservation system by Sri Lanka Railways (SLR), all seats in the upcountry railway line (from Colombo Fort to Badulla) have been reserved till the end of December 2013.
Commercial Superintendent of SLR, Sisira Kumara told Ceylon Today, according to the new method of reserving railway tickets, passengers can reserve tickets 45 days ahead of their journey, and as a result, nearly 3,600 commuters had reserved their tickets on the upcountry railway line.
However, All Ceylon Railway Workers' Union (ACRWU), had found fault with the Ministry of Transport for extending the time period of reserving long distance railway tickets from 10 days to 45 days, claiming that this step had made the railway warrants given to State employees, worthless.
General Secretary of the ACRWU, Sumathipala Manawadu said, State employees receive their railway warrant two weeks ahead of their journeys, but with this newly introduced ticket reserving scheme, State employees will not be able to reserve their seats.
"Secretary to the Ministry of Transport, Dhammika Perera had decided to extend the time period of reserving railway tickets to 45 days from 10 days. As a result, when State try to reserve their tickets, they find that all the tickets had been reserved leaving them with no way of obtaining tickets for their travel," he complained. Manawadu noted that the Ministry Secretary had said this initiative was taken in a bid to encourage tourists.
"If they want to provide the facility of reserving railway tickets early for tourists they should do so without it impacting on the privileges that State employees are entitled to," he claimed.
He pointed out, if the government wants to allow people to reserve railway tickets 45 days in advance, they should also provide railway warrants to State employees that number of days ahead.
Denying the allegations levelled by Manawadu, Kumara noted that with the E-ticket reservations, State employees too could reserve their tickets before they receive the railway warrant.
(Courtesy: Ceylon Today)