Education Minister refutes opposition leader's allegations
Posted by Editor on February 8, 2012 - 4:27 pm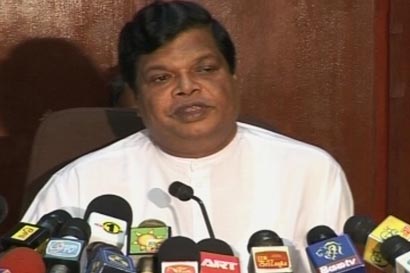 Minister of Education Bandula Gunawardena has refuted allegations made by the Opposition Leader Ranil Wickremasinghe about the education policies of the government. He has said that free education will be made an eternal heritage of the poor people of this country in accordance with the pledge given in the Mahinda Chinthana.
The Minister has vehemently rejected the statement recently made by the opposition leader Ranil Wickremasinghe that the government is preparing to curtail free education to fulfil the demands of the International Monetary Fund, and the educational sector has become submissive to political pressure.
Minister Gunawardene has said that the opposition leader has forgotten the manner the educational sector happened to be undermined during the United National Party administration period. Minister has reminded that it was during Wickremasinghe's administration that the Z-score system was introduced to the country.
The Minister has further said that Wickremasinghe has also forgotten the struggles that occurred in Sri Lanka during the period when a white paper on education was attempted to be introduced by the UNP government.
Speaking about the ongoing educational activities, the Minister has said that in each divisional secretariat divisions three fully fledged schools will be started. The programme of establishing five thousand primary schools and one thousand secondary schools are now underway.
Meanwhile, the Minister has also said that he is prepared to have a debate relating to the educational sector with the opposition leader at any time. (niz)
Source: Government News Portal
Latest Headlines in Sri Lanka