Do not forget your motherland – President appeals to Jaffna students
Posted by Editor on February 8, 2012 - 4:21 pm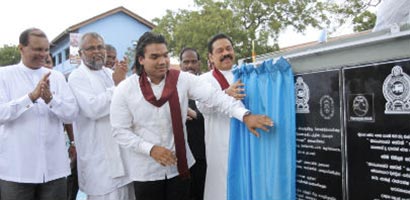 President Mahinda Rajapaksa has  said that the children  who are to  undertake the responsibility of this country in the future  should be provided with equal facilities regardless of whether they are form the urban areas or from village areas.
President Rajapaksa also pointed out that necessary steps will be taken to increase educational opportunities for the next generation and to create a better atmosphere to augment the health facilities of the future generations. The President said that sports help promote peaceful coexistence. He said that sports also helps create a person who can accept victory and defeat in the same stride.
He has made these comments speaking at a function held at the Jaffna Central College in connection with opening of the swimming pool of the College.  Speaking in Tamil he requested the students to never forget the motherland.   He has also asked the public to be cautious about various activities that are being carried out by a certain segment to disrupt the development drive of the government and to drag them to unwanted conflicts.
The President has said that the government has implemented a programme to make Sri Lanka trilingual and every child of the country should learn all the three languages to accomplish this mission in order to live in peace and harmony without any form of discrimination.
The new swimming pool of the Jaffna Central College has been constructed at a cost of Rs.17 million by the Tharunyata Hetak Organization to help develop the skills of local swimmers in Jaffna peninsula and the balance Rs.4 million had been borne by the Northern Provincial Council.
The swimming pool is 25 meters in length and 21 meters in width. The Jaffna Central College which was started in 1817 has a student population of 1800 and a staff of 114 teachers at present.
The Bishop of Jaffna Rev. Fr. Thomas Saundaranayagam, Minister Douglas Devananda, governor of the Northern Province Major General G.A..Chandrasiri and Parliamentarians Namal Rajapakse, and Lohan Ratwatte attended this function.
Source: Government News Portal
Latest Headlines in Sri Lanka