Eelam project still alive – President
Posted by Editor on August 16, 2012 - 8:42 am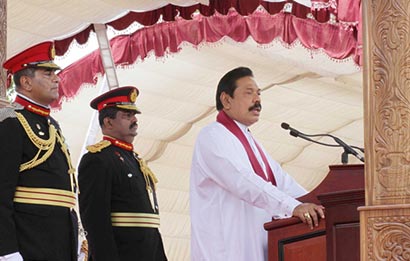 President Mahinda Rajapaksa said no one should be allowed to tarnish the unblemished image of the country while in Sri Lanka or abroad, by the patriotic people of this country.
He told Army personnel of the Gemunu Watch that although terrorism has been defeated they cannot afford to relax.
"In the same way a proposal was made in Vaddukoddai for separation 40 years ago, another conference was held the other day to give life to the Eelam project," he said. The President was addressing Army personnel of the Gemunu Watch at the Gemunu Watch Regimental Centre, Kuruwita at the Colours Awarding ceremony.
"We must understand this threat.
"The aim of the Eelamists is to break the unity and trust among us and reduce the feeling for the country and make us criticise the motherland," President Rajapaksa said. The President said a leader of a political party who attended this pro-Eelam conference had similarly criticised the country. "However the same people who tried to set up Eelam here intervened to stop his speech," the President said.
President Rajapaksa said what this demonstrates is that although Eelam is we1come elsewhere they don't want this to happen in their own country.
The President said although Eelam could be established elsewhere, no country will want this to happen on their own soil.
"On the other hand, patriotic Sri Lankans should not allow those criticising their motherland abroad or allow foreigners to criticise the country in their presence. We should not play into the hands of Eelamists," the President said.
Addressing the Gemunu Watch, the President said the Genumu Watch has rendered yeoman service to Mother Sri Lanka.
Two Army commanders were created by Gemunu Watch. Gemunu Watch was named after King Dutugemunu. King Dutugemunu conducted 34 operations to liberate the country and employed great tactical skill to safeguard the country from enemies, he said.
The book titled The Art of War which is used by you today was written thousands of years ago. But the security measures, adopted by King Dutugemunu are also thousands of years old, he said. The President said King Dutugemunu was the first person who taught the world to safeguard one's country while adhering to human qualities.
"He taught the culture of respecting the tomb of the enemy who fought against him. How much the enemy hates us, even if the enemy takes our lives, we adopt a culture of not hating the enemy or his race in the way of the great king."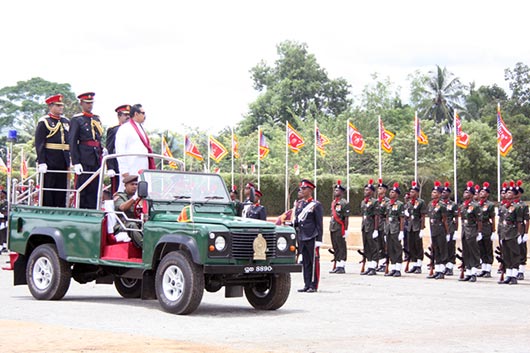 Courtesy: Daily News / Pix by Ministry of Defence

Latest Headlines in Sri Lanka