Eleven killed, nine injured as tractor trailer falls into canal
Posted by Editor on April 19, 2014 - 7:14 am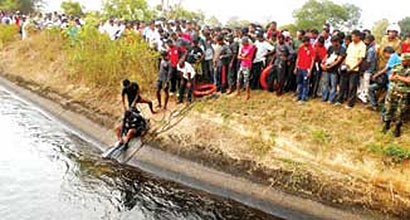 At least 11 persons, including three children were killed and nine others were injured yesterday, when the hand tractor they were traveling in fell into a canal at Alutoya, Aralaganwila.
The injured were initially rushed to the Aralaganwila hospital, but as the condition of six was serious they were transferred to the Dehiattakandiya hospital, a spokesman for the former hospital said.
At the time the hand tractor fell into the ZD canal there had been about 25 persons traveling in it and five of the dead were women, the police said.
Police investigations have revealed that a group from Dehiattakandiya had been proceeding towards Sevanapitiya, Welikanda to visit their relatives for the New Year when the tragedy struck.
They had left Dehiattakandiya around noon and had been proceeding along a road parallel to the ZD canal and when they were about to cross a bridge in the Alutoya area, the tractor had fallen into the canal.Two young relatives who had come behind the tractor on a motorcycle on seeing the accident had immediately raised the alarm, Nearby residents hearing their screams had rushed to the scene and attempted to rescue the victims, but only four managed to escaped unscathed.
An eyewitness said nine of the victims were found dead as they were pulled out of the water by the villagers. Bodies of two others were recovered by army divers from 232 brigade, Weheragala in the evening.
(The Island)
Latest Headlines in Sri Lanka