Sacrilegious to Buddhism: Asgiriya Mahanayaka Thera hands over an appeal to the President
Posted by Editor on April 19, 2014 - 7:05 am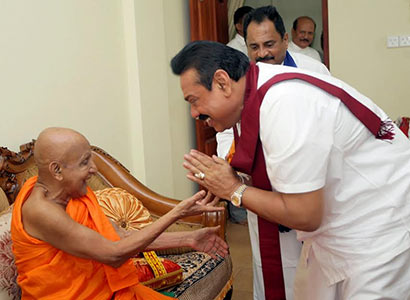 – by Janaka Alahapperuma –
President Mahinda Rajapaksa worshipped at the Sri Dalada Maligawa in Kandy this morning (April 18) and received blessings for the Sinhala and Tamil New Year. The President participated in many religious observances before the Sacred Tooth Relic.
Later he paid separate visits to the Chief Prelates of the Malwatta and Asgiriya Chapters and received the blessings for the New Year. First the President called on Most Venerable Tibbatuwawe Sri Sumangala Thera, the Chief Prelates of the Malwatta Chapter and had cordial discussions with the Maha Nayaka Thera.
The Chief Prelate of the Asgiriya Chapter handed over an appeal to the President and requested him to draw immediate attention on publishing photographs of Buddha statues in such a manner that is sacrilegious to Buddhism. The Chief Prelate Most Venerable Udugama Sri Buddharakkitha Thera made this appeal to President Rajapaksa when the latter paid a courtesy call on the Maha Nayaka Thera. The Asgiriya Maha Nayaka Thera told the President that old newspapers with photographs of Buddha statues are used as serviettes in certain eateries.
In response to the Nayaka Thera, the President told that he would draw special attention to the matter in order to stop the menace. A list of signatures collected from people around the country by U.A. Sugath of Beragala has also been attached to the Asgiriya Maha Nayaka Thera's letter to the President.
Central Province Governor Tikiri Kobbekaduwa, Chief Minister Sarath Ekanayake, MP Lohan Ratwatte and Diyawadana Nilame Nilanga Dela also participated.
Pix by Chandana Perera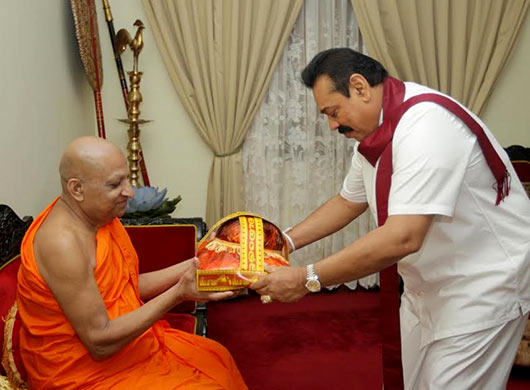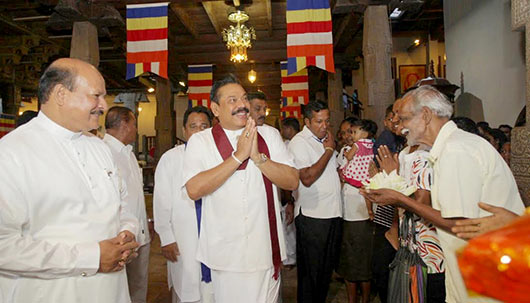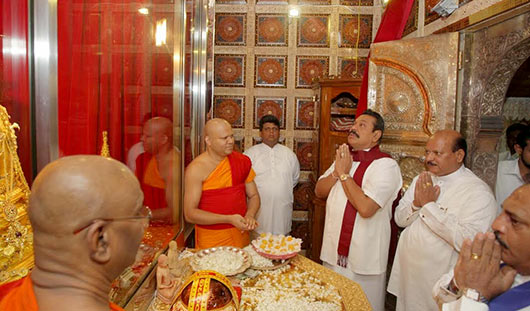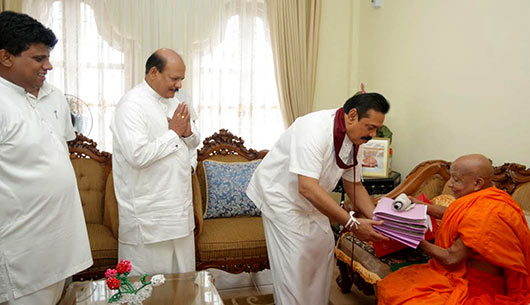 Latest Headlines in Sri Lanka