England fans hit out at 'rip off' £50 tickets for Test matches in Sri Lanka (and locals will pay just £1.50)
Posted by Editor on August 25, 2018 - 8:49 am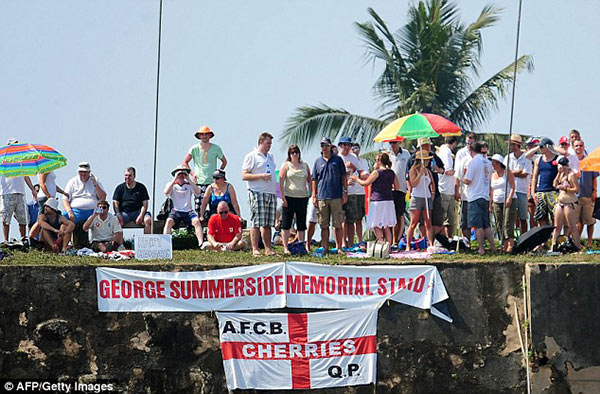 England face playing in front of empty stands in their Test series against Sri Lanka this winter because of a dispute over the price of tickets.
The Barmy Army, who are always present in their thousands on England tours, have told their members to wait before booking their winter trips while they lead the protests against an exorbitant Sri Lankan ticketing policy.
Sri Lanka, through a ticketing agent, want to charge English fans £50 a day for the Tests in Colombo, Galle and Kandy which start in November, while locals are allowed in for just £1.50. To compound the dispute, Sri Lanka say away fans will not be allowed to mix with home supporters in their fan zones.
There was a similar dispute over England's last tour to Sri Lanka six years ago but many supporters bit the bullet and paid the £25 per day they were asked to, having accepted that there should be a 'tourist tax'.
This time, however, the prices being quoted are double that, leading Barmy Army managing director Chris Millard to say: 'It's totally farcical. They are trying to rip off English fans.
'We're also being told we can't go on the grassy banks where the cheaper seats are but a lot of our members like to sit with home supporters and enjoy the banter.'
The Barmy Army have highlighted the situation to the ECB who say they are in contact with Sri Lanka Cricket but Millard has heard nothing for two months so has set up a petition to spread awareness.
'We would never suggest a boycott because we will support the team all over the world whatever the cost,' added Millard. 'But a lot of people will be watching in Galle from the fort overlooking the ground.
'We just hope Sri Lanka will follow the example of Notts on the last day of the third Test the other day at Trent Bridge and revise their policy.'
(Daily Mail)
Latest Headlines in Sri Lanka