Etisalat expands with US $ 163 m project
Posted by Editor on July 21, 2010 - 2:35 am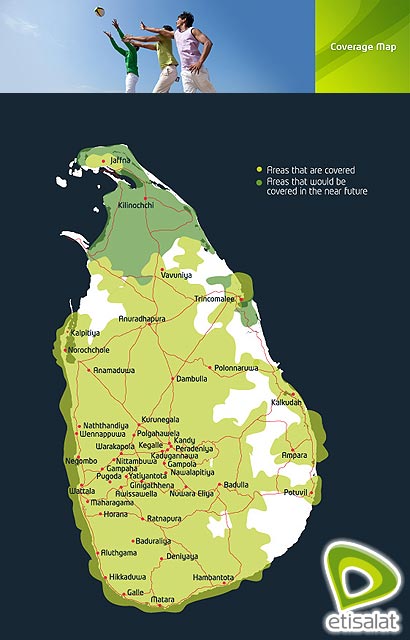 Etisalat Lanka has initiated a massive network expansion program and this will cover 480 new 2G sites.
The project commenced on a cost of US$ 163 million over the period of the next six months, making it one of the largest and most significant investments by a single entity following the end of three decades of war.
Etisalat Lanka Director/ CEO, Dumindra Ratnayaka said, "this is the project that will take the company into great heights.
This is a fully funded project with very attractive terms, given Etisalat Lanka's virtually debt free profile and high credit ratings of the UAE based parent company.
This includes all urban areas as well as steady expansion to the North East. Aligned to coincide with the Government's Uthuru Vasanthaya (Reawakening the North) and Gama Neguma (village reawakening) endeavors, company media release said.
All urban cities including the Northern and Vanni districts will benefit from the latest, cutting edge in technology as Etisalat introduces Sri Lanka's largest 3G network. This innovative and progressive venture will introduce the most advanced 3G technology with HSPA + (Evolved high speed packet access).
This is essentially yet the most sophisticated 3G technology to be introduced to Sri Lanka.
The expansion further supports the latest in Value Added Services (VAS), Billing and all IT/communication services. Etisalat Lanka has mandated Alcatel-Lucent, as the official vendor for this network expansion, following a competitive tender process. A respected foreign entity such as Etisalat UAE investing aggressively in Sri Lanka, following a mere year since its investment into the country augurs well for the country.
An investment of this nature is massive in terms of capital and technology, assisting the infrastructure development of Sri Lanka, Ratnayaka said.
Latest Headlines in Sri Lanka