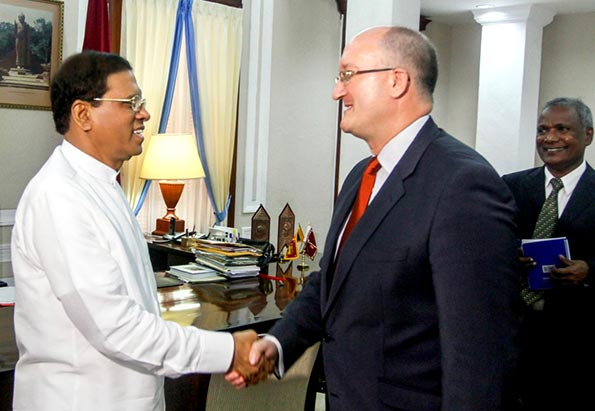 Expressing deep appreciation over the new government's policies on improving human rights and strengthening democratic institutions, European Union Ambassador to Sri Lanka, Mr David Daly, said the EU is seriously reevaluating the Sri Lanka's request to grant the GSP+ concession once again for Sri Lanka exports to EU and to lift the restrictions imposed on export of fish products.
Mr Daly explained that the legal processes were slow, as the EU has to go through a rigorous evaluation process before taking the final decision. However, he acknowledged that the strong political weight thrown up by President Maithripala Sirisena and Prime Minister Ranil Wickremasinghe on these issues would be useful to speed up the process.
EU ambassador called on President Maithripala Sirisena at the Presidential Secretariat yesterday and congratulated him on his electoral victory. He said a team of senior EU officials visited Sri Lanka for trade discussions and another team would shortly visit for joint committee meetings.
President Maithripala thanked the EU for the support given to Sri Lanka in the past and expressed hope that the cooperation between the EU and Sri Lanka would be strengthened in the coming years. He said although there were certain shortcomings affecting the relations in the recent past, his government is determined to rectify them and go forward to strengthen relations.
Ambassador Daly said a high-level delegation from the EU arrived in Sri Lanka last week for discussions with the government on the GSP plus trade concessions, which have been withdrawn from Sri Lanka during the previous government.
Sri Lanka had lost considerable revenue on apparel exports over the past few years because of losing GSP plus.
Recovery of GSP Plus would be a great step forward for Sri Lanka competitive apparel sector and its global image.
(President Media)