EU urges Sri Lanka to cooperate with UN panel
Posted by Editor on July 2, 2010 - 2:07 am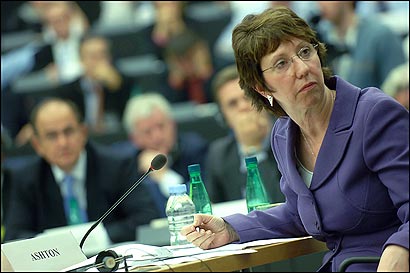 The European Union urged Sri Lanka's government on Thursday to cooperate with a UN panel probing alleged war crimes during the country's civil war.
"The European Union encourages the Government of Sri Lanka to cooperate fully, including through the Lessons Learnt and Reconciliation Commission appointed by President Rajapakse, with the members of the Panel, in the interest of all concerned," said EU foreign affairs chief Catherine Ashton.
"The European Union hopes that these initiatives can contribute to an inclusive and sustainable political solution addressing the legitimate concerns of all the communities on the island," she said in a statement.
President Mahinda Rajapakse's government has ignored calls to investigate allegations that thousands of civilians were killed along with surrendering rebels during the final months of the fighting that ended in May last year.
Sri Lankahas refused to cooperate with a panel named by UN chief Ban Ki-moon last week to advise on "accountability issues" during the conflict, which pitted government forces against Tamil Tiger separatists.
Rajapakse told the Times of India in an interview published Monday that he did not care about damage to the country's image as a result of resisting pressure from the United Nations and Western countries to submit to an enquiry.
"Why should I worry about others?" he told the newspaper. "If Indiaand neighbours are good with me, that is enough for me."
Asked about the risk of losing EU trade concessions worth an estimated 150 million dollars a year because of his resistance to EU pressure, Rajapakse replied: "I am not bothered."
"If the EU doesn't want to give it, let them keep it. I don't want it. We have gone and explained what we have done."
AFP
Latest Headlines in Sri Lanka