Weerawansa's Outburst: Will Govt allow people to take up arms against the UN staff working in Colombo?
Posted by Editor on July 2, 2010 - 12:53 pm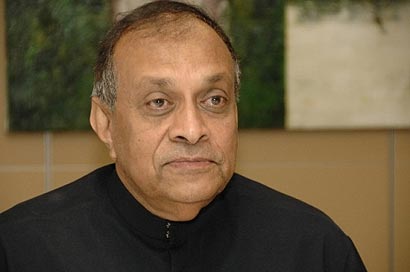 TC – by Karu Jayasuriya
We are astounded by the irresponsible and deplorable call by MP Wimal Weerawansa, a Minister in the present government urging the Sri Lankan public to take up violence and commit acts of aggression against the United Nations offices and their staff in Colombo.
Mr. Weerawansa is now a senior cabinet minister of the current government and his seemingly cavalier statements would have serious repercussions for the people of our country. It is well known that this is a common strategy adopted by the government, which uses its various mouthpieces to get abhorrent messages across to the world, while retaining its ability to claim it was an 'unofficial' or 'personal' remark.
Upset though he might be by the UN's decision to appoint an experts panel to advise its Secretary General, Mr. Weerawansa should even contemplate taking diplomatic personnel hostage let alone rabble rousing and inciting the peace loving citizenry our country says a great deal of what governance is made of under the present regime. I wonder if Mr. Weerawansa and the leaders of his government realise that the only other groups threatening violence and hostage taking against the UN are the al-Qaeda in Afghanistan insurgents in Iraq and other terrorist groups that wish to disrupt civilian life and make countries and territories more risky for UN personnel.
At a time when the UN is scrutinizing Sri Lanka's acts during the height of a war against ruthless terrorists, it is important that the public questions whether Mr. Weerawansa's outburst helps or hinders our national cause. When a senior government minister urges the public to take to acts such as taking United Nations officials hostage, in order to twist the arm of the UN and the international community, it is tantamount to condoning, if not instigating terrorism.
Minister Weerawansa has failed to stipulate how a responsible government should react to such a situation, if it were to arise. Having been a proponent of the violence, will Mr. Weerawansa's government then stand aside and let mob violence prevail?
Will it allow the people to take up arms against UN staff, working in Colombo, many of whom are Sri Lankan citizens themselves? Or will it act to prevent such monstrous acts before they unfold?
Has the government stopped to contemplate how its credibility will be affected with global bodies such as the UN if it continues to adopt this approach of allowing its partners to make the necessary noise, only to distance itself from the horror of the statements at a later date?
Minister Weerawansa and the leaders of this government who have no problem with inciting such deplorable behaviour need to remember that Sri Lanka's reputation is fast declining. It is because Sri Lanka is turning its back on accepted norms of democracy and good governance. When journalists are continuing to disappear and when public officials such as the Secretary of Defence threatens to hang an army commander for the crime of engaging in politics the rest of the world is left with no choice but to shun our nation.
The damage done by the likes of Minister Weerawansa will haunt the peace loving Sri Lankan people who have to bear the brunt of the consequences of such ill advised actions.
A public statement made by a high ranking government minister cannot but be taken seriously by the UN, in which Sri Lanka continues to hold membership. We urge the government therefore to clarify its official position on the issue, to ensure that Sri Lanka is not pushed further into fold of the global black sheep because of its disrespect for norms and civilised engagement in dealing with the world community. We also call upon the government to take all steps necessary to ensure that the UN offices in Colombo are provided adequate protection from a potential wave of violence instigated by one of its very own ministers, in order to prove that Sri Lanka is not a nation of complete miscreants.
We reiterate that the UNP will always oppose any attempt from any source to interfere with the internal affairs of Sri Lanka.
(Statement issued by the Deputy Leader United National Party)
Trans Currents
Latest Headlines in Sri Lanka