Ex-LTTE members increasingly taking to writing
Posted by Editor on August 15, 2016 - 7:39 am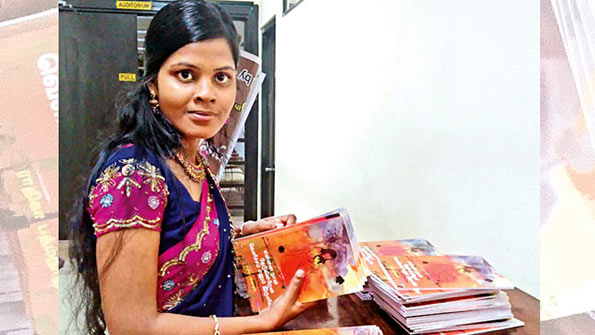 Former members of the Liberation Tigers of Tamil Eelam (LTTE) are increasingly taking to writing to articulate their reflections on the civil war, which came to an end in May 2009.
In recent months, books of three ex-combatants of the LTTE have been brought out and by a coincidence, all are women.
A few days ago, the 24-year-old Rathika Pathmanathan launched her book, which contains a set of poems and a narrative account, at an event here in the presence of former President Chandrika Bandaranaike Kumaratunga and leader of the Democratic Front Vasudeva Nanayakkara. Besides the original Tamil work, the Sinhala and English versions were also released.
Six months ago, an autobiographical sketch of Subramaniam Sivagami alias 'Colonel' Thamilini, (who died of cancer 10 months ago) was released. It has been rendered into Sinhala and its English version is expected soon. Last month, the work of another ex-combatant was launched in Colombo.
The present political climate has been cited by many as the main reason for this trend. 'Perhaps, critics of the LTTE are encouraging people to come out with their accounts," says a Tamil writer, who wishes to remain anonymous.
S. Sivagurunathan, who did the translation of Rathika's work, says the regime change, which took place in January 2015, has paved the way for an atmosphere of freedom for people to express contrary views. Pointing out that the Sinhala version of Thamilini's work has seen seven prints, he says this shows that many sections of the Sinhalese society are keen on knowing what had happened during the civil war. However, he feels that still, there is a substantial number of Sri Lankan Tamils who do not relish criticism of the LTTE or its chief V. Prabhakaran.
V. Thanabalasingham, veteran journalist, says the trend has to be viewed as a reflection of self-criticism. The works also demonstrate that there were members of the LTTE who held views contrary to the position of the LTTE leadership on various issues at different points of time but these persons, bound by discipline of their organisation, had adhered to what the leadership had decided.
Rathika, who was in the LTTE barely for nine months during 2008-2009 after having been forcibly recruited, says she chose to write her experiences while she was undergoing treatment at a Colombo hospital during 2009-2010 for injury in the leg. "I did it as a way of overcoming my pain." Conceding that her stint with the LTTE was short, she points out that there are many young former combatants who require proper guidance from society and the government. "Otherwise, there is every chance that these youngsters choose the wrong track," she cautions.
(The Hindu)
Latest Headlines in Sri Lanka