Ex-PMs appointed as senior advisors to President
Posted by Editor on June 11, 2015 - 3:15 pm
Former Prime Ministers, Ratnasiri Wickremanayake and D. M. Jayaratne were appointed as Senior Political Advisors to the President.
President Maithripala Sirisena made these appointments today (June 11) at Presidential Secretariat.
Mr. Ratnasiri Wickremanayake, who is currently a Member of Parliament  served as the Prime Minister from August 2000 to December 2001, during the regime of the People's Alliance Government and again from November 2005 to April 2010 during the United People's Freedom Alliance (UPFA) Government.
His first election to Parliament was in 1960.
Mr. D. M. Jayaratne, a veteran Politician with nearly three-decade experience in the field served as Prime Minister of Sri Lanka from April 2010 to January 2015. Mr. Jayaratne was first elected to parliament in 1970.
Secretary to the President P. B. Abeykoon was also presented in the occasion.
(President Media)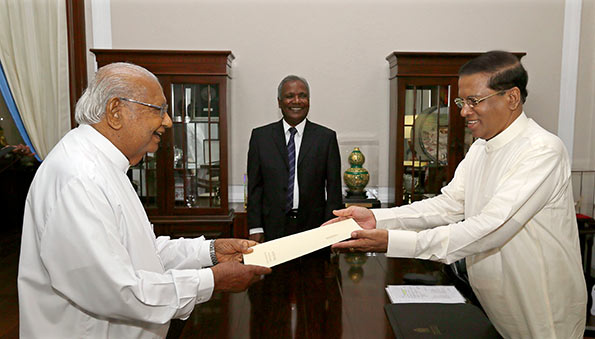 Latest Headlines in Sri Lanka