EXCLUSIVE: Mervin not guilty, decides committee
Posted by Editor on August 31, 2010 - 1:39 pm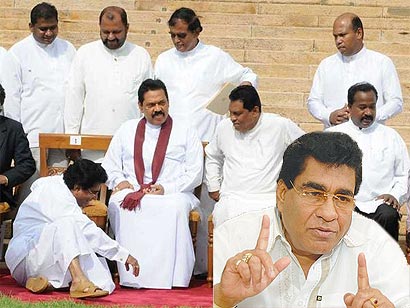 News Courtesy: Ada Derana
The disciplinary committee appointed by the Sri Lanka Freedom Party (SLFP) to probe the incident of a Samurdhi officer being tied to a tree at Kelaniya, has decided that former Deputy Minister Mervin Silva is not guilty.
The three-member committee which handed over its report to President Mahinda Rajapaksa has stated that there was no evidence against former Deputy Highways Minister Mervin Silva to prove that he was responsible for punishing the Samurdhi official to a tree for failing to be present during an anti-dengue campaign.
The said Samurdhi officer had also claimed that he had willingly let himself be tied to a tree symbolising a traditional village punishment of old. The official has claimed that this was only a demonstration to discourage others from shirking their responsibilities and he had volunteered himself be tied to a tree, the committee had stated in the report.
Considering the available evidence the disciplinary committee has decided that Mervin Silva is not guilty of breaching any party discipline, Health Minister Maithripala Sirisena who is also the SLFP General Secretary told Ada Derana a short while ago.
Latest Headlines in Sri Lanka