Super Kings felicitates Muralitharan
Posted by Editor on August 31, 2010 - 7:34 am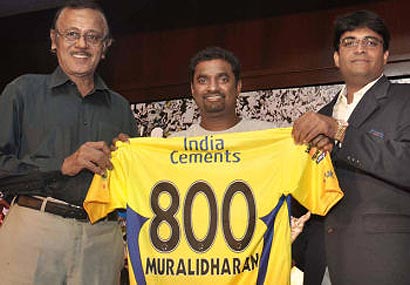 HAIL MURALI:S. Venkatraghavan and CSK team owner Gurunath Meiyappan during the function to felicitate the off-spinner
Chennai: Muttiah Muralitharan's impish grin ran out of room, the lean contours of his face allowing it only so much space to spread into, as the accolades for his record-breaking feats poured in from all corners. The Sri Lankan off-spinner, who recently exited Test cricket after setting the bar for future record aspirants at a stratospheric 800 wickets, was in the city for a felicitation by Chennai Super Kings, the team he represents in the IPL.
"Just as India will never have another Sachin Tendulkar, Sri Lanka will never have another Muralitharan," said former India skipper and Test umpire Srinivas Venkatraghavan, after handing Murali a T-shirt with his name and the number 800 on its back.
Others who offered words of praise included former India batsmen Sanjay Manjrekar and V.B. Chandrasekhar, and Murali's Super Kings teammates M. Vijay, L. Balaji, S. Badrinath, R. Ashwin and S. Anirudha.
Murali singled out his match-winning second-innings spell of nine for 65 (he bowled 54.2 overs in that innings) at The Oval in 1998 as his best performance in Test cricket. "It was a flat wicket. England batted first and made 400-odd, and then we made 600. We had only one day to get their 10 wickets, and I got nine," he said. "Before that, people knew I was good on the subcontinent — after that spell, they took note that I had performed in England, in batsman-friendly conditions."
Going even further back, he regaled the audience with the tale of how his unusual action had Allan Border in knots when the touring Australians played the Sri Lankan Board President's XI in 1992. "Mark Waugh was at the non-striker's end, telling him, 'play him like an off-spinner,' and Border was yelling from the other end, 'no, no, he's a leg-spinner; he's bowling googlies!'"
As his career progressed, certain batsmen proved harder to bamboozle than others. Apart from Sachin Tendulkar and Brian Lara, Murali named Andy Flower as a particularly difficult player to bowl at. "He was one of the greatest players of spin — he swept and reverse swept very well," said Murali of the former Zimbabwe left-hander.
When asked about his prediction that Harbhajan Singh had a chance to match his Test-wicket haul, Murali said, "He has already taken over 300 wickets. If he wants it badly enough, he is statistically capable of it."
Looking ahead, Murali said that he would continue playing for a few more years. "I'll be playing in the IPL, and also county matches in England — mostly one-day and T20 games, but also a few four-day matches. I think my body has another 2-3 years of cricket left, and I'm still training hard."
Muralitharan will also continue his humanitarian work with the Foundation of Goodness, an NGO which rebuilt Seenigama, a village near Galle ravaged by the December 2004 tsunami. The foundation is now planning rehabilitation efforts in the war-torn Northern Province of Sri Lanka. "We're working on a project in Mankulam, which is close to Jaffna," he said. "Hopefully, it will be completed in 2-3 years."
The Hindu
Latest Headlines in Sri Lanka