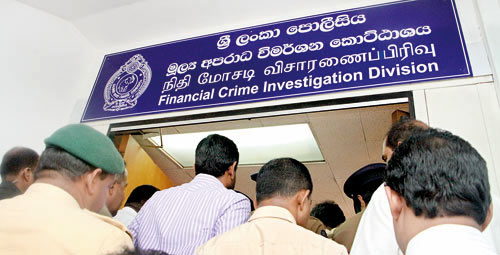 The Financial Crime Investigation Division (FCID) which completes two years today (February 26) has recovered nearly Rs.1 billion worth of State and unduly earned assets of politicians through its investigations, FCID sources told the Sunday Observer.
The sources said the FCID recovered the fraudulently earned assets having investigated 74 out of 322 cases referred to it.
Currently 12 cases are being heard at different High Courts in the country and the FCID is awaiting the advice of the Attorney General on cases on which investigations have been completed for necessary action, the sources said .
According to FCID sources, among the major assets recovered are the three houses said to belong to former Economic Development Minister Basil Rajapaksa and the buildings, equipment and assets belonging to CSN TV channel said to have run by Yoshitha Rajapaksa, the second son of former President Mahinda Rajapaksa.
The house and land in Oruthota, Gampaha said to belong to former Minister Basil Rajapaksa is estimated to value over Rs. 50 million and the land and the house recovered from Browns Hill, Matara is also worth over Rs. 50 million, the FCID sources added.
The third asset, the Malwana house and the land said to belong to former Minister Basil Rajapaksa and eminent businessman Thirukumar Nadesan is worth over Rs. 200 million. The Malwana property is slated for public auction in the next few days and the money earned from this auction will be remitted to the Treasury.
The FCID has taken over the buildings and equipment used by the CSN TV channel and handed them over to the government. Apart from this another Rs.163 million recovered following the investigation into the CSN operations has been remitted to the Central Bank, the sources added. The FCID during in its investigations arrested high profile political figures, public servants and former diplomats. The FCID arrested MP Namal Rajapaksa thrice, Yoshitha Rajapaksa thrice and former Minister Basil Rajapaksa thrice during their investigations.
According to the FCID many more arrests are eminent in the coming months as it had completed investigations on many cases and awaiting the response from the Attorney General's Department.
In terms of recovering the stolen and misused state properties and assets, the FCID has performed well ahead of other government and independent agencies investigating into such cases and earned a good reputation among the general public, according to independent surveys due to the impact it has made on government fiscal discipline.
(Source: Sunday Observer – By Ranil Wijayapala)