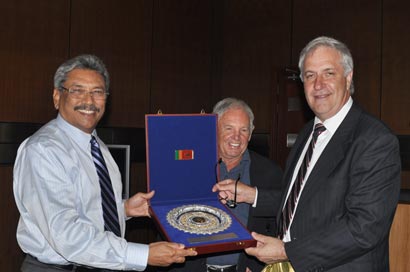 Hon. Don Randall MP JP, Federal member for Canning in Australia paid a courtesy call to Secretary Defence and Urban Development Mr. Gotabaya Rajapaksa this afternoon (28th September).
Hon. Don Randall is the Liberal Member of Parliament for the Federal Seat of Canning in Australia. He has served on a number of Parliamentary Committees and is currently on the Standing Committee on Infrastructure, Transport, Regional Development and local Government. He has held the position of Chairman of the Joint Standing Committee on Migration and is currently a member of the Privileges and Members' Interests Committee. Since 2010 he has also been the shadow Parliamentary Secretary for Local Government.
During the meeting a cordial discussion was held between Secretary Defence and Hon. Randall. Secretary Defence presented a memento to the visiting dignitary to mark the occasion.
By Dr. Telli C. Rajaratnam