Felicitating Pandit Amaradeva: India honours doyen of Sinhala classical music
Posted by Editor on June 29, 2011 - 8:43 am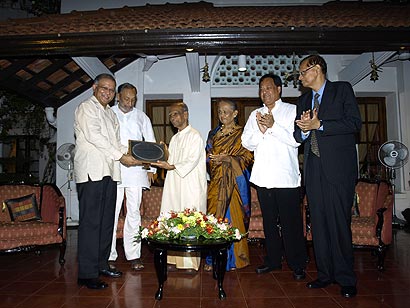 Onlanka News – By Janaka Alahapperuma
The Indian government felicitated legendary Sri Lankan musician and Magsaysay award winner Pandit Dr W.D. Amaradeva once again for his contribution to strengthening India-Sri Lanka ties through his music. The 85-year-old doyen of Sinhalese classical music was honoured for his outstanding and unique contribution to enriching the relationship between two countries through the promotion of music.
The felicitation ceremony was organized by Ashok K Kantha, High Commissioner for India at India House in Colombo-03 on Monday, 27 June 2011. The living legend of Sri Lankan music, maestro Amaradeva who has also been conferred the 'Padma Shri' title by India on India's Republic Day in 2002. He is the only Sri Lankan citizen to have been awarded such a prestigious award by the Government of India. In 2001, maestro Amaradeva has been conferred with Magsaysay award by the Philippines based foundation for his contribution to the fine arts.
The celebrated singer had learnt classical music from an Indian violinist, Pandit V.G. Jog and later from Sri Lankan musical legend Dr Ratnajaikar of the Bhatkhande Institute in Lucknow, India. Pandit Amaradeva is a singer, violinist, conductor and composer who has made a mark in both classical and contemporary styles, acquired the knowledge of Indian music during his stay in India. He was classified as a grade one vocalist in India.
Pandit Amaradeva drew inspiration from classical Indian ragas as well as Sri Lanka's own rich traditions of folk music and went on to create music that is quintessentially Sri Lankan. He is also well known for blending Sri Lankan folk music with Indian ragas.
The event organized to felicitate maestro Amaradeva at India House was attended by Dr. Sarath Amunugama, Senior Minister for International Monetary Cooperation, Prof. G.L Peiris, Minister of External Affairs, Vasudeva Nanayakkara, Minister of National Languages and Social Integration and Secretary to the President, Lalith Weeratunga.  All the speakers at the event paid glowing tributes to Pandit Amaradeva. The event also brought together a number of Pandit Amaradeva's colleagues and luminaries from Sri Lanka's public and cultural life. Pandit Amaradeva's citation for the award noted that he was being honoured in recognition of his unique role as the voice of Sri Lanka's musical soul.
In his remarks, Ashok K Kantha, High Commissioner for India said that it is important to keep this bigger picture of India- Sri Lanka relations in mind and not get distracted by odd discordant notes on any particular day. He called Pandit Amaradeva an embodiment of the finest traditions of symbiotic exchange that has characterized cultural interface between India and Sri Lanka over the centuries. He said that the silent but enormously powerful give and take between India and Sri Lanka over countless centuries in the fields of dance, music, literature and other art forms had been mutually enriching and provided the civilizational bedrock to our relationship.  Pandit Amaradeva was an embodiment of the finest traditions of the cultural interface between the two countries, the High Commissioner further added.
Pandit Amaradeva was presented a felicitation plaque by the High Commissioner. Mrs. Sharmila Kantha honoured Pandit Amaradeva and Mrs. Wimla Amaradeva by draping them with rich shawls. The evening concluded with mesmerizing performances of music by Pandit Amaradeva and his daughter, Subhani Amaradeva. Pictured here are Pandit Amaradeva with Indian High Commissioner and government ministers during the event.
Source: High Commission of India- Colombo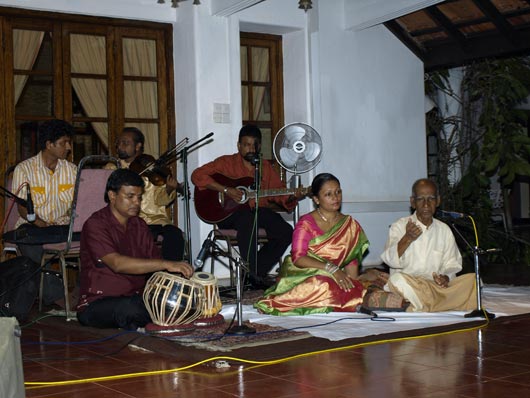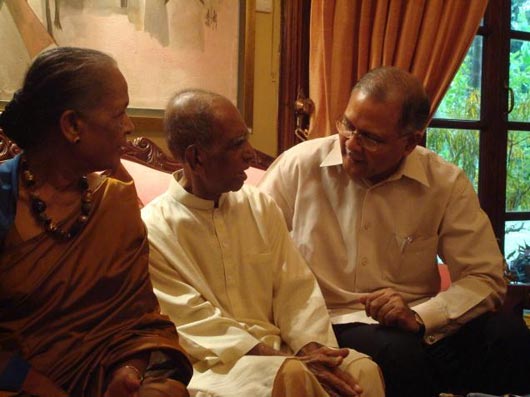 Latest Headlines in Sri Lanka